Grocery store apps are real lifesavers these days. Simply on the click of a button, you get your grocery delivered at your doorstep. According to a study from eMarketer, grocery app usage will grow by 50% this year, and close to 18 million Americans will order food in this way. If reviews are to be believed, one out of five adults will order food through a grocery app next year.
Online shopping is like a rage in the market. Forrester predicts that smartphones will affect more than $1 Trillion in US retail sales. The grocery will be a significant chunk of this as well. Globally mobile e-commerce sales are expected to increase to $3.5 Trillion in 2021.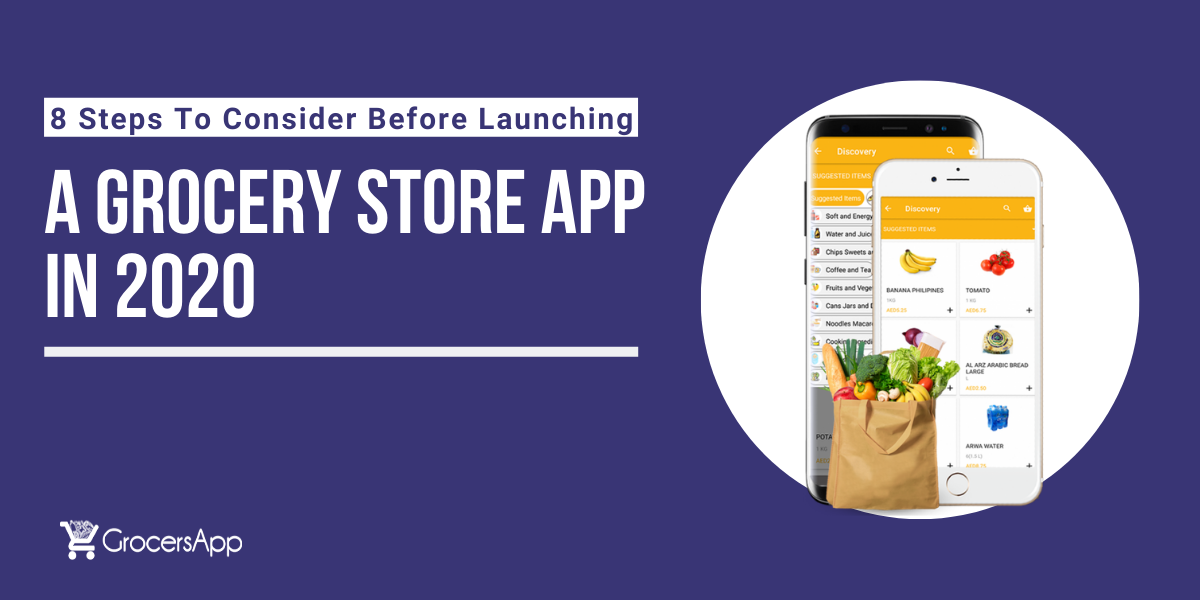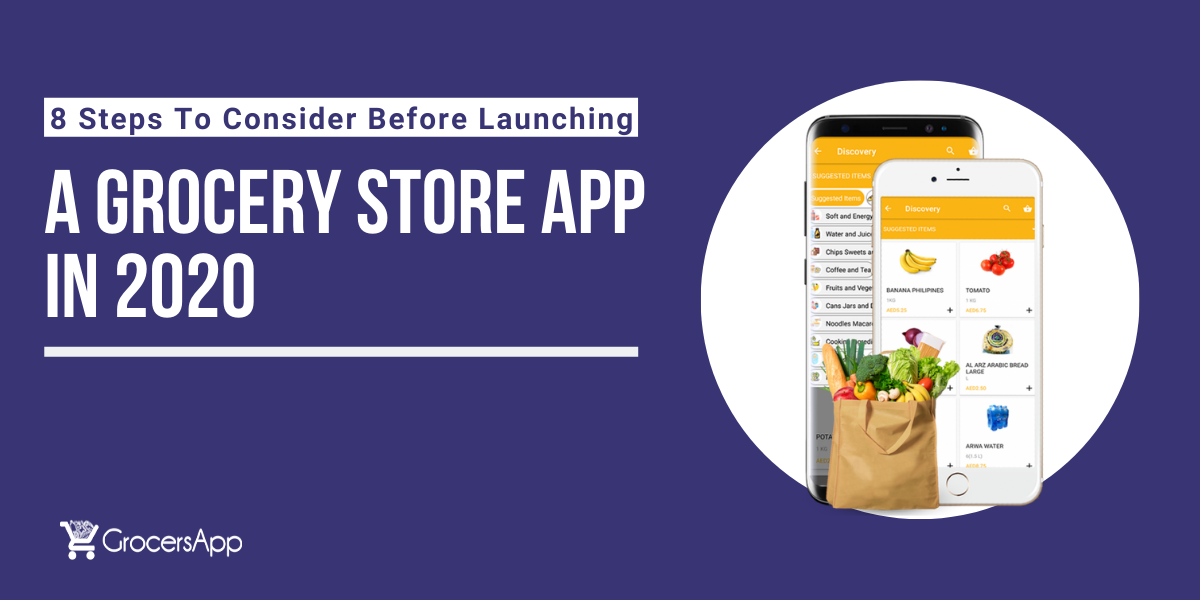 With such exciting trends building up in the grocery industry it's important to make a note of a few steps that need to be considered before launching grocery store apps in 2020.
Let's walk you through each step one by one:
Step 1 – Enhance customer experience by merging online and offline grocery business 
You must have an omnichannel offering. Rather than running after being completely online or completely offline, every business must try to amalgamate the two. Take Amazon, for example. The "Just Walk Out" campaign introduced this new kind of store in which customers can shop and leave, no check out required. The algorithm and technology behind this are super sophisticated and surprising at the same time. It automatically calculates how many items are picked, what is the price of each item, totals your shopping list, and auto deducts the amount from your wallet.
How cool isn't it? There is no hassle of worrying that the items delivered won't be as fresh as possible, and also you don't have to stand in long queues or carry cash for that matter.
Step 2 – Low-Profit Margin and Quality Assurance
Given the competitive nature of the business, you must differentiate your product by offering the optimum quality. But the main problem is that too much money is spent on building and maintaining the storage infrastructure. With such expenditures maintaining satisfactory profit margins might have become very difficult. Also, given the perishable nature of the products, most customers feel the need to buy fruits and vegetables by physically checking the items for freshness and quality.
Online shopping can be made more reliable by offering three-dimensional images of the products that you can offer. It can be a persistent challenge to persuade people to buy groceries online on grocery mobile apps. It's important to breakeven in this business as the profit margins are generally kept low by growing companies given the increased competition. 
Step3 – Lucrative offers like Friend Referral 
Every customer wants to feel special in some way. Offers like free first delivery or x% discount to customers who invite their friends is gaining a lot of popularity in the business. Not only these offers keep the customers engaged to the maximum extent possible, but they also encourage customers to buy more from you. They also help in keeping the customer acquisition cost minimum as well. There can be discount coupons for the target audience as well.
For example – If you purchase five items, then you'll get a lucky scratch card. Such offers attract customers to your grocery app more than the other grocery store apps.
Step 4 – Product Categories, Search Tool, and Customer Profile
You should ensure that your inventory is categorized into proper categories and sub-categories. This helps the users in navigating easily across the app. Also, ensure that all variants of a particular product are listed together, it helps people in choosing the product they want from all possible varieties available. 
Another significant thing is the Search Tool. In case a customer can't find what he/she is looking for, there should be a robust search feature available. The search tool should have the auto-suggest feature and should auto-suggest in case there are minor spelling mistakes.
Customer Profile is an essential part of any app. No one wants to keep logging in again and again. It should keep a record of customer's orders, saved items, favorites, collect the repeat orders, and so on.
Step 5 – Merchant Modules and Social Commerce Features
It's important to have an interface for users, but what about the grocery merchants? There should be a separate section for merchants (Grocery Sellers), which allows them to maintain their inventories, orders, payments, headcount, and so on.
Another major add on to any app is sharing products on social media, social signup (Like signup using Facebook or Gmail) or selling directly on Facebook. All these connections with social media ensure that your business gets proper exposure, and also the users can log in easily to your interface.
Step 6 – Storage and Delivery Infrastructure 
Some common issues are faced by regular online services like delays in delivery, wrong item delivery, returns. To avoid all these problems, the entire supply chain from farm to store must be as robust and efficient as possible.
Perishable foods have to be treated very carefully. This can be done by storing and delivering them in refrigerated chambers. Note that storage infrastructure adds up the business operations cost marginally. 
A few steps that'll help you in this are:
Segment the delivery work to hyper-local networks to manage the deliveries better

Partner with a reliable delivery service provider that can meet your customer expectations with assurance

Integrate Just in Time Delivery Management System that automates the storage cost and wastage
Step 7 – Incorporating Artificial Intelligence 
Artificial intelligence is a combination of algorithmic retailing, deep learning, and machine learning. What's key is AI does things humans aren't capable of—such as analyzing enormous amounts of data—freeing up humans to do what they're best at, such as negotiating with vendors. Another zone where AI can be a game-changer is managing inventory. You can always monitor what is going waste, what is in high demand, what is seasonal, and then replenish the inventory accordingly. 
AI will also revolutionize the way we interact with the customers. There can be chatbots that help people navigate the grocery store sales app or auto-response robots that can replace humans while interacting with customers.
Step 8 – Great Backup and Support
In any business customer is king. The user visits on any app can only be increased if you are offering exceptional customer experience. This can be done by checking on your users' from time to time. Making sure that they are reimbursed in case there are any defective products delivered, also, a 24*7 chat service or customer grievance hotline can help people immensely. 
You should also reward customers for their loyalty towards your app. This can be done in the form of complementary gift items or discount coupons or scratch cards.
Now that we have discussed the steps to consider before launching a grocery app in 2020, in case you want to build a Grocery mobile app for your business, GrocersApp can take you through the process of building one with ease. If you have any query, write to us at info@valueappz.com