Most people, especially women, love shopping. It can be satisfying to pick things that you like.  But when it comes to groceries, it can become a tedious job. Go to the market every day, buy the same items, wait in long queues for payment, carry the heavy items in hand, and then come back home. What a monotonous exercise can this be? To save the shoppers, the hassle of this daily parade and bring some comfort into their lives, the concept of On-Demand Grocery Delivery App has come into existence.  It has brought the convenience of seamless shopping without even stepping out of the home.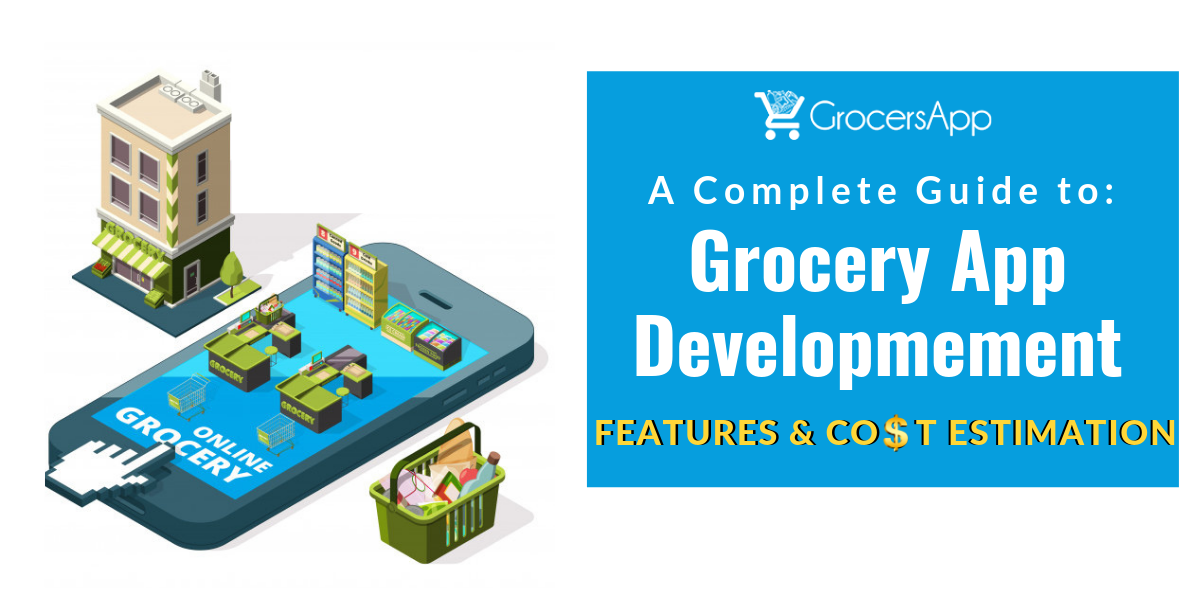 What exactly is this On-Demand Grocery App Development? How easy is it to set up such an app? Where does the Grocery Delivery App Company fit in? Hop-On, all your questions are going to get answered.
Here is our complete guide to grocery app development – features and cost estimation:
Overview of an On-Demand Grocery App
It's a virtual supermarket, where you can select from multiple items, pay for them, and get the issues delivered at your doorstep. There are ready App clones available in the market these days like Instacart App Clone.
Features of On-Demand Grocery App
User Registration

– Now, this is like any other App. You need to enter your email/mobile number/password/address

Browse & Search Products

– The users can select desired products by applying different filters/ sorting

Payment Gateways

– Now, payment options can be multiple. There are different gateways available in the market such as Apple Pay, Braintree, Stripe

Order Placement & Tracking

– Real-Time status alerts of the Order status starting from Dispatch to Delivery

Customer Feedback & Support

– This is an essential feature as this gives you a direction as to how the App should be enhanced further
Some examples of On-Demand Grocery Apps are AmazonFresh, Instacart, and Peapod. Before Developing any App, you should have a clear Idea (Whether it's a game/informational App), Design (Icon and Screen Page) and Layout (How the App functions) in mind.
Cost Estimation for Grocery App Development:
Now, moving to the Cost Estimation part – It's essential to keep "TTPM" in mind – Type, Time, Platform, Marketing. Let me simplify this for you further.
TYPE and TIME(TT)–

This essentially translates into the complexity and the kind of App that you are building. Is it only meant for Veggies, or dairy products as well, or regular snacking items and beverages as well? As you keep on adding new features to the app, the complexity increases, and so does the cost.

Simple Type

– Grocery App Development Cost will be approximately $5,000 assuming 100 hours to the personal time taken to build the app and cost/hour is $50.

Semi – Complex Type

– Time taken would be somewhere between 200 to 250 hrs, at $50/hour so approximately $10,000.

Complex Type

– Here, due to added complexity time taken would be more as well. Will approximately 400 hours, @50/hour the Grocery App Development Cost would be somewhat around $20,000.

PLATFORM(P)

– the Maintenance cost of an App is directly linked to its Platform. An App developed in HTML or Javascript will be cheaper to maintain than one in Java or Objective C.
There are different types of App Development prevalent in the Market. These include – iOS App development, Android App Development, Windows App Development, Hybrid App Development. The cost for the Android & iOS platform of an Instacart like App is based on the research, design /architecture, Technology.
Business logic is somewhere $6000 to $14,000 per platform. For Windows, it is around $7000 to $ 15,000.
It's best if the app is developed in iOS and Android both as it covers the majority of the smartphone market. In terms of cost, development in Android would be more as you are making the app for multiple devices. Android vs. iOS is also an emerging market vs. premium smartphone market. Build the app keeping the target audience in mind. Also, Android is Open Source, so it caters to a broader audience.
Let's take a look at some important facts:
MARKETING(M) –

Once the App is ready, it's vital to Market it correctly. There can be varied options for Marketing the App.

Facebook Boosting Posts

– The minimum cost of a boost is $1 per day, so if you want to boost something for a week, the minimum cost will be $7.

Search Engine Optimization

– Expect to pay somewhere between $75 and $150 per hour if you're planning to get quality work done.

Providing App Free for a fixed Duration

– You need to do some cash burn to attract an audience to your app and then breakeven sometime later

Bulk SMS and Blogs

– Bulk SMS service ranges from Trial to Super Saver. A trial has 2000 SMS with starting with a rate of $5/year; Supersaver has 1,00,000 SMS with the price being $151.
API costs you $4,000, an app for one platform — $4,000 –$12,000. All these are approximate calculations, and the final app development cost will depend on the scale and specifics of the project.
Now, that we have understood the cost aspects of App, there is an exciting thing that you can do – App Cloning. It means recreating a new app, which is similar to an existing app in the market. It can be done in 2 ways – Reconstructing from Scratch or Using App Clone Software.
An example is – Instacart Clone App. You can download the Instacart Clone Script and design your app with advanced features such as Gifting card option, Video integration, Language translation, Bitcoin wallet integration.
Now that we have learned about the cost and features of creating an On-Demand Grocery Delivery App, there are many grocery delivery app development companies that can help you with this. Examples include Bacancy Technology USA.
Bottom Line
To sum it all, Grocery App Development can be a hands-on exercise but can offer you some Incredible profits since it's the need of the hour. In case this piece has left your mind wondering what you should build an On-Demand Grocery Delivery App, GrocersApp can take you through the process of creating one with ease. GrocersApp brings food, technology & convenience at a universal pedestal by helping a business get your mobile application. We bridge the gap between the grocery store & their customers. If you have any queries, write to us at info@grocersapp.com.