The demand for online grocery shopping is on the rise. In general, the grocery industry is something that can't be ignored. This is because it is something that everybody needs for living. 
As there is no scarcity of supermarket mobile apps, launching a new app and making it successful is not a cakewalk job. You have to go through a lot of decision making to ensure that your app is satisfying for the app owner as well as customers.
In case, you are a novice in the industry or app development realm, it's best to take inspiration from the other popular grocery delivery apps. It will help you analyze the competition and come up with some better ideas.
Few Grocery Mobile Apps to Check Out:
AnyList

Bring! Grocery Shopping List

Flipp

Grocery IQ

Mealime

ShopWell

Yammly

Daily Bread
Types of Wholesale Grocery Apps
Prior to initiating the grocery store app development process, it's important to decide what kind of app will be suitable for your business. Following are the three most popular types of on demand grocery apps:
1. Grocery Delivery Apps
Instacart and Shipt are two of the industry leaders when it comes to supermarket mobile apps. The Instacart platform eases the process of creating grocery shopping lists and placing the order from Costco, Safeway, and Whole Foods. The best part is you will get the grocery delivered within one hour. 
This option benefits users by combining items from all three stores in a single order. 
The best grocery delivery apps like Instacart, are a thoughtful and innovative combination of eCommerce, aggregator, on-demand, and other models. You can also combine a few or many of these to suit your requirements.
Amazon has also jumped onto the scene with the announcement of free, 2-hour delivery of whole food products for Amazon Prime customers. 
For now, it is available in limited cities, but the eCommerce giant has confident plans to expand it far and beyond. "Walmart Grocery" is another popular wholesale grocery app.
2. Grocery Loyalty Apps
There are two benefits to support loyalty programs. First, it increases revenue and second, it ensures customer loyalty. Most customers think that loyalty programs/membership is essential to have a long-lasting, satisfying relationship with brands.
There is no shortage of examples of a grocery store sales app that is designed around the provider's loyalty program(s). Loyalty points are awarded for making a purchase using the app. The two most popular examples are Amazon and Starbucks.
Centralizing customer transactions serves as:
An invaluable source of information about customer behavior and preferences

A way to design and offer more relevant campaigns

An effective communication source
Offering a loyalty program in levels further enhances the overall experience. Take the example of the Moe Rewards app. Upgrading to further levels increases the earning potential of a user. The app also offers referrals program, allowing users to earn rewards by referring the program to friends, family, and acquaintances.
A grocery loyalty app with the shopping list feature allows users to benefit from loyalty programs as well as shop conveniently all along.
3. Grocery Apps with Inbuilt Recipe Books
AnyList and Yummly are two of the most popular grocery apps that combine a recipe book with the standard functionality of a supermarket mobile app. Typically, an app with built-in recipe books has curated menus as per cuisine, lifestyle, and season. And, there are hundreds of them.
Paprika, a recipe manager app, comes with an inbuilt browser that assists users in finding recipes that they have liked over the web and import the same to their personal recipe list(s). Also, it stores recipes so that users can add all the ingredients required for a recipe to a grocery list in a few minutes, if not seconds.
Mandatory Features to Add in Your Supermarket Ordering System: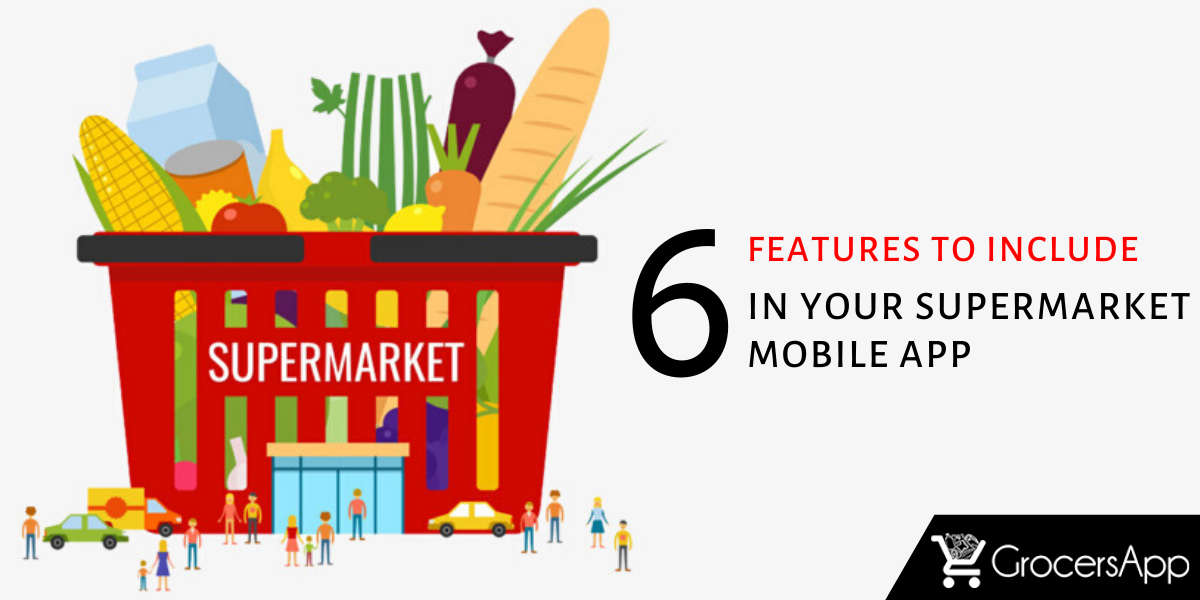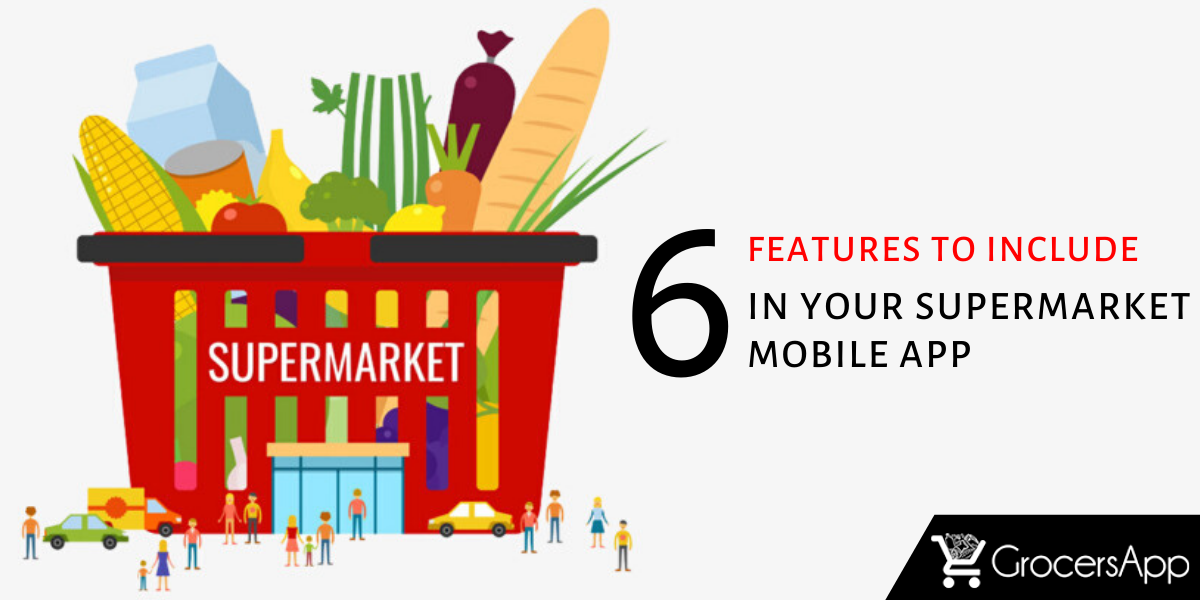 Every app is equipped with a wide range of features. While some of them are optional and play a small role in achieving the overall objective of the app, others are mandatory and the backbone of the app.
Obviously, some features might not be as much popular as others. Hence, you need to choose the features of your mobile app for grocery shopping carefully as per your audience and user response.
1. Simple, Effective Shopping List
It is the absolute feature of any wholesale grocery app. Although you will find the feature in all grocery apps, such as AnyList and Flipp, the implementation of the same is different. You need to have your unique take on the shopping list feature.
An autocomplete dictionary is a desirable feature while making a search in many types of apps. As people do a great deal of search in a grocery delivery app, adding an in-app dictionary capable of sorting and recalling words is desirable.
Many users purchase the same items over and over. Adding a built-in dictionary with autocomplete capability helps them to cut the chase and quickly add items that they are looking for to add in their shopping list. Moreover, users can also save shopping lists as well as view frequently purchased items.
Another feature is the ability to edit a shopping list easily using the barcode scanners and online list updation. List sharing is another important feature that makes it easy to share lists with family and friends.
Take the example of the Mealime app. It has a sophisticated inbuilt grocery list feature that allows users to prepare and edit easily understandable grocery lists based on meal plans. As soon as the user makes a new meal plan, an appropriate grocery list of all important products for the week gets automatically created.
2. Track Expenditure
The ability to track your expenditure while buying from a supermarket mobile app is helpful so that they can plan their expenses accordingly. In fact, this feature is beneficial for vendors as well. It allows them to understand the shopping preferences of a user and then cater to them accordingly.
One of the grocery delivery apps that took this feature to the positive extremity is Grocery IQ. It allows users to stay within their fixed budgets by presenting an estimated cost of all the items added to a grocery list. However, the users are required to manually enter the prices of items to the app.
3. Grocery Shopping List Reminders
Push notifications are one of the most widely used features, especially in eCommerce and other commerce apps. The Daily Bread supermarket mobile app comes with a built-in reminder feature that allows users to know when they are about to run out of groceries.
You can use reminders to let users know about the groceries that they might need by the end of a week. It can also be used to let them know about relevant discount offers and coupons that might be expiring soon.
4. Rewards and Loyalty Programs
Shopping and discounts go hand in hand. There are several ways to make grocery deals lucrative for users, such as coupons and loyalty programs. Furthermore, these discounts can be offered on a daily, weekly, or seasonal basis.
You can make your grocery mobile app to work with coupon finding websites to present relevant coupons to users, appropriate as per their shopping preferences and styles. Some factors that help to decide the best coupons and discount offers for a user include:
Current shopping list(s)

Purchasing history

User location
Let's take the example of the Grocery IQ app. It works together with coupons.com to present alerts to users about suitable coupons, if available, for printing or loading to the grocery store loyalty card as soon as the user adds some item to the list.
Flipp, for instance, lets users browse, filter, and find bargains on grocery items by matching local deals with coupons. Most users will be happy to get customized coupons matching their shopping preferences.
Grocery IQ and SavingStar apps help users optimize the use of coupons while at the same time staying relevant to rapidly changing discount rates and offers.
5. Barcode Scanner and Store Location
Barcode scanning simplifies finding products quickly. Scanning a product with their barcode offers important information about the product such as:
Price

Nutritional breakdown

Dietary recommendations
The barcode scanning functionality is well implemented by the ShopWell app. It allows users to eat healthier as well as fulfill their set nutrition goals. This option is much helpful for maintaining weight and people suffering from conditions such as diabetes and high blood pressure.
Another notable example of barcode scanning is the Out of Milk app. It lets users create shopping lists rapidly. Adding a map to your wholesale grocery app store enables customers to receive detailed information about your business and your products.
6. Effortless Sharing
Sharing is caring! This applies appropriately to apps. The ease to share something in a few taps is becoming increasingly popular with the rapid expansion in social media and messaging platforms such as WhatsApp. The easier the sharing is, the better the experience will be.
Obviously, there might be more than one person to review a shopping list before finalizing it. Hence, the sharing option is mandatory. Moreover, someone might like a recipe made by someone else. 
So, they can have all the ingredients required for the recipe with a quick share.
Conclusion
So, that sums up all about the grocery mobile app development. Hopefully, this information will help you develop a fitting grocery app, invaluable for your customers and profitable for you. You can also seek professional consultation to guide you better through the app development process.