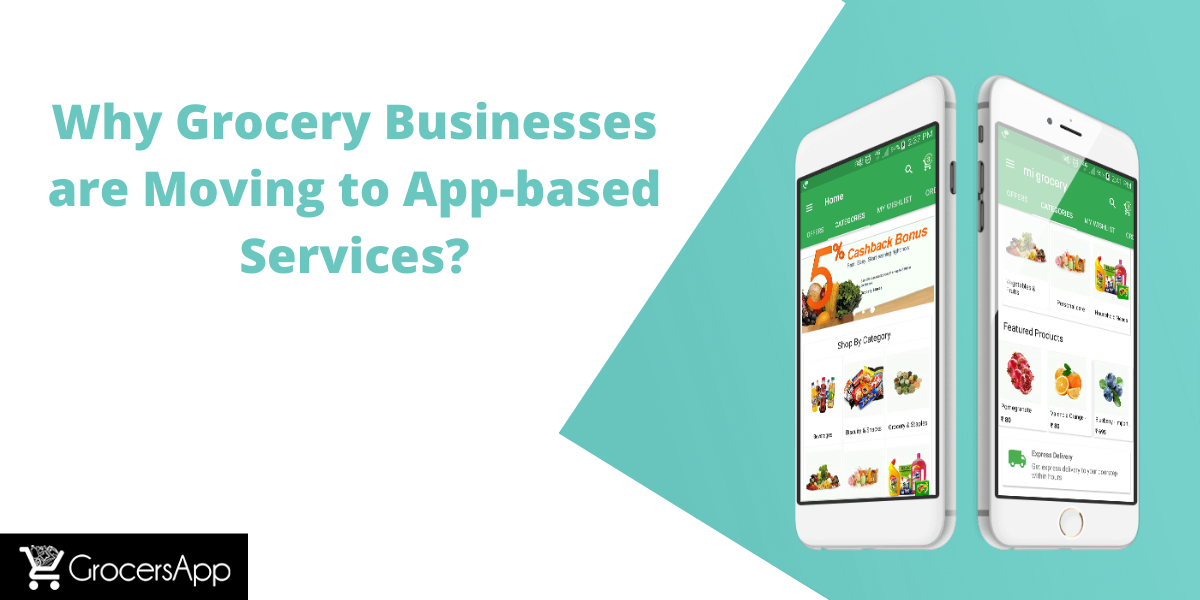 With the increased use of online services, it's important to understand the grocery industry trends. A survey indicates that 71% have already extended beyond brick and mortar stores into online retail. The challenge here is the failure to drive profits. To provide lucrative services like free shipping & immediate delivery, the retailers are burning a lot of cash, which is not sustainable in the long run. 
With these trends picking up in the grocery business have suddenly found themselves thrust into competition with the foodservice sector. These grocery industry trends make us wonder why grocery businesses are moving to app-based services? 
Grocery delivery mobile app development has gained traction in the past few years. As it offers immense convenience to customers & saves a lot of time. There are apps like the Instacart Clone App. It is an American technology company valued at nearly $8 Billion. And, it operates as same-day grocery delivery and picks up service in the US and Canada. Today, Instacart is accessible to more than 80% of U.S. households, and in all 50 states, and 70% of Canadian households.
Instacart is one of the flag bearers of Grocery delivery mobile app development. Let's understand what is in the apps that are making businesses more and more keen to set one up for themselves?
1. Convenience 
Going and physically buying groceries can be very time-consuming. With an online grocery store sales app in place, people can conveniently use the apps to place an order for groceries online and get it delivered at their doorsteps. You don't have to wait in the long and never-ending queues, in those long parking lines. Just open the app, choose the items, pay using any of the multiple options available, and boom get the groceries delivered. What better way of using your smartphone? 
2. Personalized Offers
Every customer wants to feel special. Providing people with personalized shopping offers can enhance their shopping experience and make them revisit your grocery store apps for repeated purchases. Rewarding people with special offers based on their order history or lucrative schemes like a buyer of the month can be very engaging for the buyers.
Also, another good example for this can be – If one customer chooses a particular type of bread, he/she can be offered the other options of bread available so that they have a variety of options to choose from. Suggestions based on regular preferences can be a good medium to enhance customer experience and push relevant products to the target audience.
3. Order Tracking
This is one of the major plus points in using an online grocery mobile app. You not only get to order the products every day but also you can track your order live. This helps the users to plan their day better. They have well defined time slots to choose from while ordering in grocery. Also, the entire timeline – from placing the order to transit to shipping to delivery can be tracked efficiently. Users can also coordinate with the delivery person in case they are running late or can't take delivery on time.  
4. Multiple Payment Gateways
This offers people the convenience of paying by cash or card or other payment wallets whatever they like. Having multiple gateways can be a big breather in avoiding keeping cash all the time. Just order the items online and then pay online. It also helps in promoting other gateways like Amazon Pay, which gives a two-sided advantage. You get a royalty from Amazon as well for promoting its wallet on your grocery store app and offer more convenience to the end-user as well.
5. Customized Shopping List
This one is of immense help to the end-users. The shopping list is one of the time-consuming things that every grocery shopper spends too much time on. Having an auto-generated shopping list developed based on your shopping pattern can be a very helpful thing for consumers. You can use this list every week or every month to sort out your grocery needs easily. Furthermore, you can also arrange the shopping list whenever you want. Like there can be a bucket for dairy items, one for vegetables, one for fruits, one for toiletries and so on. This helps in ensuring that nothing gets missed out in any category at all.
6. Growing Market for Grocery
A study shows that online grocery delivery app usage among Americans will grow in the future from 18 million in 2018 to 30.4 million in 2022. What a humongous jump in the online grocery store app usage. Don't you think so? Nielsen's global survey shows 18% of shoppers used mobile coupons, 15% used mobile shopping lists and 14% used a mobile retail loyalty program. There are some major players in the online grocery market. Some examples include – Amazon Fresh, Peapod, Kroger, Walmart Grocery and so on.
7. Stores Becoming More Innovative
This can be best explained as the amalgamation of grocery shopping and robotics. For example – Kroger builds high-tech warehouses thanks to its new partnership with Ocado, where robots will help pack grocery orders for faster delivery.
8. Enhancing the Brand
Every business has to offer an omnichannel approach to appeal to all the consumer groups. Having a mobile app service is becoming a very significant part of this approach. Having an interactive, high-velocity customer experience helps the grocery businesses in creating a lasting impact that not only enhances and amplifies the brand value and resonates more with a user as smartphones are something that the users use as frequently as they breathe.
9. Feedback Mechanism
The "Just Walk Out" campaign introduced this new kind of store in which customers can shop and leave, no check out required. Amazon says it's the world's most high-tech shopping technology, made possible by the same types of technologies used in self-driving cars: computer vision, sensor fusion, and deep learning. Such campaigns describe what evolution is going to happen in the grocery industry. Apps must be imbibed into each business model specifically to cater to millennials who rely on their smartphones for practically everything.

Apps are a great way of getting real-time feedback about your service and product offering. This is very important in getting insight and collect reviews from the shoppers. It also helps in monitoring the overall supply and demand of a particular store. Feedback is also very important for the users as well. They rely on this feedback to gauze if they can use the app or not and how are other people finding the app.  Apps are gaining a lot of market share these days. One major example of this is Amazon.
Now that we have given you an insight as to why grocery businesses are moving to app-based services, in case you want to build a Grocery mobile app for your business, GrocersApp can take you through the process of building one with ease. If you have any query, write to us at info@valueappz.com