One thing without which people cannot live these days is their smartphones. Today, it is estimated that more than 5 Billion people have mobile devices, out of which half of them are smartphones. As per Statista, "The number of smartphone users in India was estimated to reach over 760 million in 2021, with the number of smartphone users worldwide forecasted to exceed to 3.8 billion users in 2021."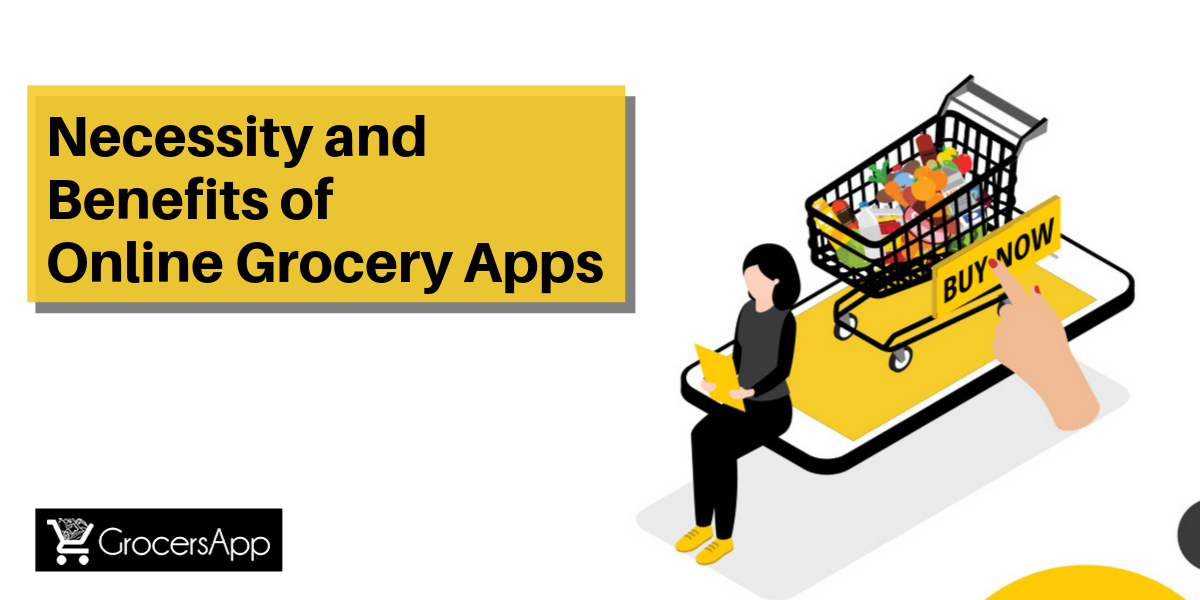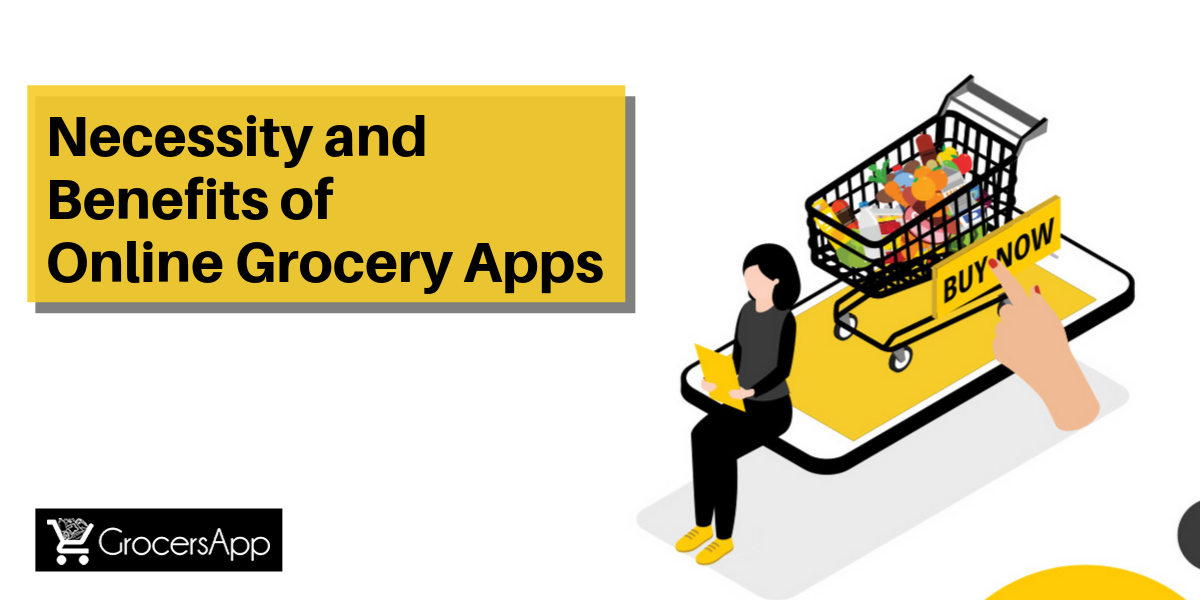 Mobile apps play a major part in making smartphones popular. Right from gaming and food ordering apps to salon and grocery delivery apps, we have everything at the tips of our fingers today. This exclusive combination of smartphone and mobile apps have made everything so convenient, which customers are simply loving. Today, we are going to speak about online grocery apps, which is one of the hot markets right now.
 Everyone shops groceries, and now since such quality grocery delivery apps are available in the market, it has become much easier for the customers to get everything right at the comfort of their homes. The benefits of online grocery apps are impressive. It is a perfect solution for those facing hectic work schedules or those who adore comfort. It seems normal to go to the store and buy groceries, however, for some, it is a task, which they don't have time for. Besides, the COVID-19 crisis will also have to be kept in mind now – that's inevitable.
This is where the on-demand grocery apps come to our rescue. You simply have to choose the things that you wish to buy, add them to your cart, make the payment through a variety of gateways and then get the grocery delivered at your doorstep. Afterall, there is a reason why people are investing in grocery stores nowadays.
Let's analyze the necessity and benefits of online grocery apps in more detail.
The necessity of Online Grocery Apps
Necessity 1: Lack of Time
With a 40-hour workweek, it might seem impossible for many to prepare the grocery shopping list, go to the store, and spend hours shopping for groceries. It seems like we are running a race against time. The credit should be given to the incredible benefits of online grocery apps, which have made our lives much easier and more convenient.
Online grocery apps not only offer the convenience of doorstep delivery but they also get the option of handpicking from a variety of choices, which might not be available in a normal brick and mortar store.
Also, other options like delivery tracking, rescheduling helps people plan their day in a way that they can easily pick the delivery of groceries.
Necessity 2: Competitive Rates
Almost every player in the grocery delivery market allows us to enjoy the same benefits of online grocery apps. However, there is a difference in the design and the features, which makes every app unique. What also differs is the prices at which the items are offered on the online grocery delivery apps.
The online grocery delivery market is hot right now, and the prices are competitive. However, the prices have diminished overall due to the crisis going on now. Also, grocery stores have higher rates as compared to online grocery apps. That means relying on the benefits of online grocery apps is much valuable.
One of the benefits of online grocery apps also tends to get the opportunity of selecting from a wide range of products. For instance, if you wish to buy bread, you can go for different options like multigrain bread, brown bread, milk bread. Not only do you get a variety of products, but also products at reasonable prices.
Necessity 3 – Saving the hassle of travel
Amongst all other benefits of online grocery apps, this is the most important one. Not all of us have time to go to the store and purchase groceries. For them, an online grocery app is a highly reliable option, as that is a perfect option to save the time of traveling to the grocery store.   
People don't necessarily have a grocery store nearby every time; hence the online grocery app will make a big difference in such cases. Also, people even might have to travel miles to fetch daily groceries. The online delivery app helps in saving multiple hours of not only traveling but also the time of browsing through items, handpicking the items, waiting in queue for payments, and so on.
Having a wholesale grocery app can help you in getting groceries at the best price, without losing your convenience and time. Hence, it is a great deal for every customer, who wishes to save time and money.
Necessity 4 – Buying in bulk with ease
Buying in bulk is a nice way to cut down the costs. However, not everyone stocks up things like that. It takes up extra space and effort to carry such stock at home. But the benefit of grocery online app is that you can easily order the bulk of orders from the online grocery apps. Online shopping comes as a lifesaver here. You can simply add the bulky products to your virtual shopping cart and they will be delivered right at your doorstep, without any hassle.
Necessity 5 – Cutting the gas and parking costs 
When you are buying your grocery online via your grocery online app, you are saving more fuel, cost, and effort. Now you must be thinking how big an amount can that be? Well, if you add up these miniature amounts together for a year, it can sum up to a big chunk. Also, let's not forget the time that goes into finding a parking spot, and then the whole time spent in the grocery store altogether.
Now, that we have discussed the necessities in detail, let's hop on to some of the benefits of grocery online app shopping.
The Benefits of Online Grocery Apps
Let's delve deeper to understand the benefits of online grocery apps:
Benefit 1 – Greater flexibility
One of the primary benefits of online grocery apps is to discover a whole new range of products. Users can discover a wide range of products within their customized filters, explore the specifications, and do a lot more with the online grocery app. They also get to handpick from multiple options, in all price ranges. So, rather than choosing from limited options and settling for something more expensive. There is more comparison as well, you get to choose and compare what suits more to your budget. And, that's an incredible benefit of an online grocery app that one can enjoy.
Benefit 2 – Shop by History/ Repeat Orders
Another benefit of the online grocery app is that you can easily repeat orders. For instance, you have ordered a few grocery items in the past, and you wish to order them again, then you will not have to go to the search option and buy it again. You just need to go to the 'history' of the cart and order the items again. You don't have to keep picking order items repeatedly, all the time. This can be a lifesaver, especially for items, which you believe you will be buying again and again. Simple go to the history options, add the items to the cart, and make the payment; that's easy it is.
Benefit 3 – Budget Control 
We all run on a tight budget, at least once in a lifetime. Hence, we all look for certain discounts, coupons, or deals to make online shopping an easy experience for you. Also, it is easy to go over budget when you're buying impulsively such items in bulk. Hence, there is a need to control the budget, especially when buying groceries. The benefit of an online grocery app can be experienced using deals, discounts, and offers available only on the app. Hence, when ordering from the grocery app, you can control the budget and save some money too.
Related Read: 5 Steps to Maximize Sales with Grocery App
Benefit 4 – Stay Organized
Traditionally, people used to prepare a grocery list every month before shopping. Now, the online grocery app has made it easier. All you need to do is select all the items from the list on the app, add items to the cart, and make payment via your chosen payment method to order it at the comfort of your home. Besides, you even have the ease and the comfort of ordering your favorite groceries at the comfort of your home.
There is even an option to conveniently reuse the list rather than spending time and effort in creating one. Hence, it is easy to stay organized and manage the grocery list and order items, when you have an online grocery app available on your smartphone. Staying organized is another benefit of using the online grocery app.
Benefit 5 – Increased customer loyalty
App originates convenience for the customers. With an online grocery app, you can order everything right at the comfort of your home. So, when customers get such comfortable services, it is apparent that customers will stick to the business. Hence, better customer retention and loyalty can be experienced. People will wish to use the app again and again if they continue to receive such comfy services at their homes. Amazon and Walmart are some good examples of the same. They have managed to deliver some comfy services to their customers, and as a result of which they are experiencing a massive customer base, who are loyally supporting them in growing their business.
Benefit 6 – Easy Track of Expenditures
Shopping via your own online grocery app could be a long-term money savior. Wondering how? The total cost is generally visible in the cart all the time. So, there are lesser chances that the final order price will go out of your budget.  Besides, you will always have a few discount coupons to save some money on the orders, which means there are higher chances of staying within your budget rather than spending more on unwanted items, which generally is the case when you go to grocery stores. Hence, the benefit of an online grocery app can be enjoyed in form of easy expenditure
Benefit 7 – Price Comparison is Easy
You can't really control the prices of different grocery stores; however, you can always compare the prices to ensure that you are buying groceries at the best price. Utilize the benefit online grocery app by comparing the prices of numerous grocery stores, and then pick the most reasonable one for yourself.  The environment on the app is pressure-free, where you have all the freedom to choose the best price for yourself. Hence, not only the money is saved, but even your time is utilized aptly, as you don't have to visit the stores to know about the prices.
Benefit 8 – Shop as Per Your Convenience
Grocery app allows you to shop for groceries as per your convenience. So, let's say you have a particular time to shop for groceries – you will not need to go to the store to get essentials. Just get the list ready and add to the cart everything you wish to order before finally buying everything. There is barely any need to check the working hours of the store. You can place the order using the grocery app even when you are chilling, playing with your kids, or even during the lunch break hour. It is easy to shop when using the online grocery app; as per your own convenience and time.
Benefit 9 – Double Check the List
On your online grocery app, you always have the option to double-check the grocery list. When buying from the store, there is a possibility of missing some items, for which you might have to repent later on. Alternatively, when you are using the online grocery app, there is barely any chance of missing any product from the list. Even if you forget to order anything, it can be easily added to the cart again and ordered. Forget about calling someone and asking them to pick grocery items for you, the online grocery app is going to do that all.
The Takeaway Message
The necessity and the benefits of online grocery apps are incomparable. There is a lot you can experience with the online grocery app – it saves you money, cost, and effort while giving you all the comfort and convenience. In case, you are building a mobile app (grocery store sales app/ on-demand grocery delivery app) for your business, GrocersApp can take you through the process of building one with ease. If you have any query, write to us at info@valueappz.com