After the advent of online grocery shopping, technology has continued to grow manifold. There is a new kid on the block – "Grocery Stores on Wheels" – Robotics + Grocery Delivery. Doesn't it sound exciting? Imagine you order milk, bread and veggies and a remotely operated robot come to your doorstep, with pre-stocked shelves from where you can pick up your stuff. The technology behind this uses RFID, where you need to pay based on the items that you pick from the shelf. This one gives the flexibility of picking up your grocery, after proper inspection.
A research done by Morgan Stanley suggests that fewer people tend to buy groceries online as the majority of them don't trust someone else picking up fresh grocery for them. The self-service model of grocery shopping ranges back to 1916 when Clarence Saunders introduced it. The major benefit of robots is that they can provide product fulfillment faster than a human ever could.
One of the biggest examples of the amalgamation of Grocery and robotics is Kroger's partnership with Nuro, producer of the self-driving unmanned vehicle(R1). The electric four-wheeler is about half as wide as your standard sedan and shorter than a Fiat 500. The R1 can carry 12 large grocery bags.
Now, how does this work? It uses public roads, does not have a human backup driver and can speed up to 25km/hr. The service costs close to $6 per drop off. Other examples include – Walmart tying up with Ford to create a delivery service using autonomous vehicles.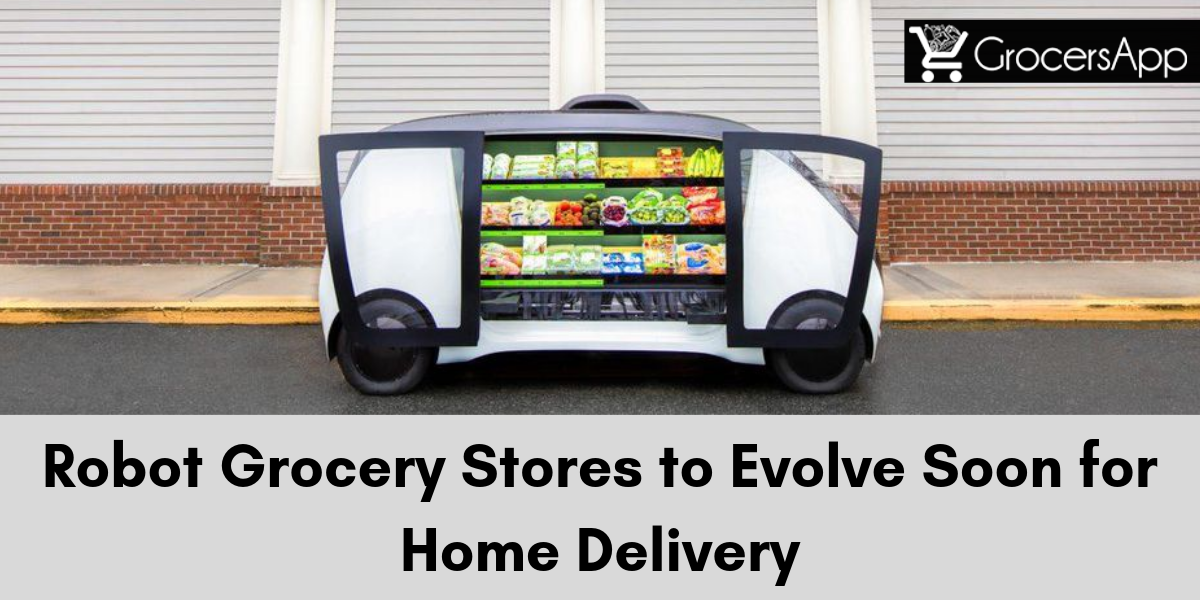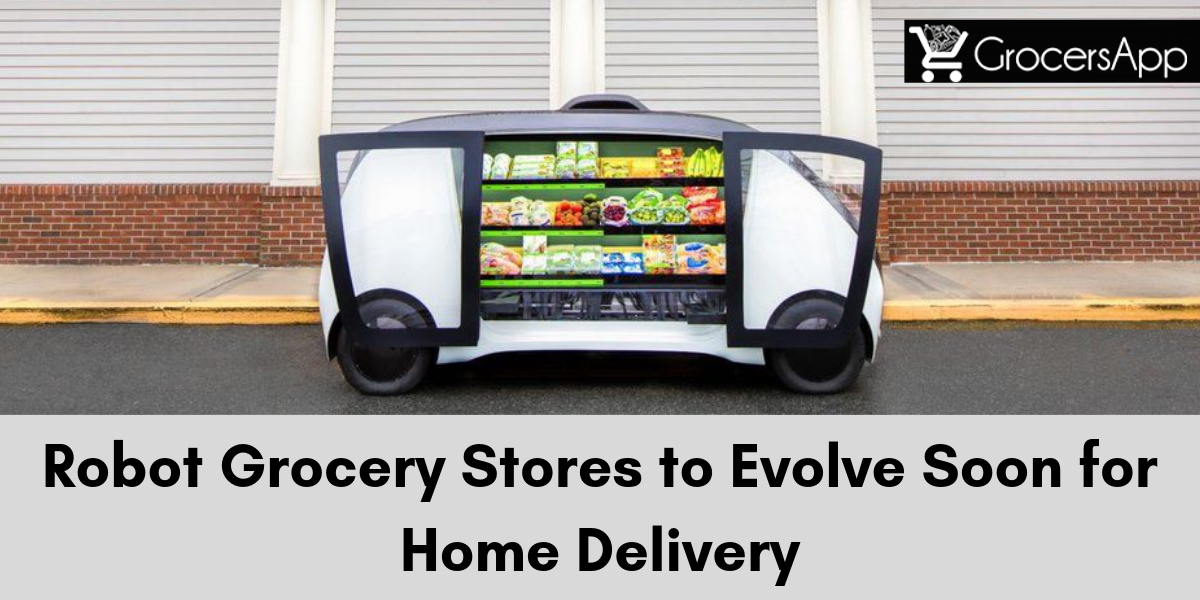 Robotic Delivery is not limited to food though, later once it gains substantial traction, it can be used for package delivery as well.
Before we delve deeper into Robot grocery stores, below are few companies that use autonomous delivery robots:
Amazon Scout

– Made its entry in January 2019. There is a six-wheeler in testing that delivers only during daylight, with pilot testing being carried out in Snohomish County, WA. Amazon's acquisition of Whole Foods was a testimony to the fact that it wants to rule the grocery business. 

FedEx

– right now the robots are delivering packages between the offices in Memphis, but this service will be extended to other companies as well.

Postmates Serve

– "Serve" – Currently on testing in Los Angeles. The robot has humanoid eyes that change to help people on the sidewalk to understand what it wants to do next.  

Starship

– This one is the biggest player out there. With 25,000 plus deliveries done so far, it has done testing in London, Washington DC and San Francisco. The co-op has been trialing the delivery service since April 2018, while Tesco has been added to the app recently. It has tried the app service but is not very keen to launch its robot delivery service. 
Prices are more or less the same on the app as in the store. A very interesting feature that Co-op has adopted in the UK is that you can get a free cab home if you shop for 25 bucks or more. Isn't in super cool and innovative? 
How do autonomous robot grocery stores work?
So this is quite interesting. People place an order on their grocery mobile app. They get notified of how much time it will take for delivery. This might range from 10 minutes to 30 minutes. Once they see the robot coming towards them, they have to unlock it via the same app and collect the groceries that they want. The delivery range of the robots can be close to 4 miles.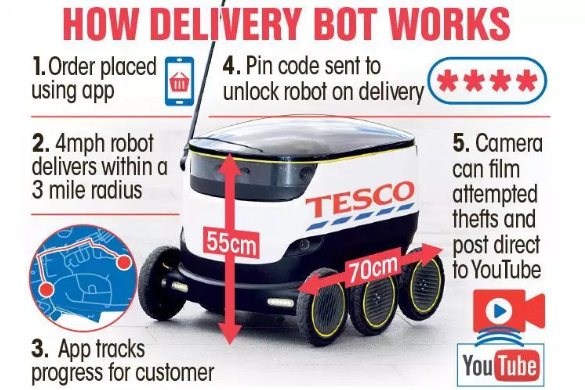 Now, one question that might be coming to your mind is what about a theft anywhere? The robots are thoroughly locked and can only be unlocked via the smartphone app. There are multiple cameras capturing everything in the vicinity. GPS tracking ensures that there is an alarm that blows off if any robot is picked up in between.
There has been a lot of noise about the mechanism of drone delivery as well. Uber collaborated with McDonald's in this space. Also, amazon launched Prime Air Delivery Drones. Amazon has also launched its cooler shaped sidewalk robots that are busy rolling around the streets of Seattle.
For instance, let's discuss Ocado – England's largest online-only grocery delivery company. There is a vast grid in its warehouse, with containers underneath that has the products listed on Ocado's website. The robots keep speeding across the rail at close to 13 feet per second, retrieving items and then ferrying them to a drop off point on the grid.
Another great example of grocery industry trend is Walmart – It's latest patent describes a robot that uses biometrics to read customers' facial expressions while they wait in line at the point of sale. And The AI then analyses that visual data to determine whether a customer is feeling dissatisfied with his or her experience. If any dissatisfaction is detected, it will alert an associate to come to the checkout area and attempt to ease out the situation.
What are the benefits of Robot grocery stores?
Robots play a vital role in helping humans work more efficiently. Here are some other benefits that our robot friends offer:
They are much cheaper and their cost is now decreasing.

There is less absenteeism as robots will not get ill ever. They are machines and function at a much higher speed.

Easy Logistics management at the grocery warehouse and they show up right in the aisles of the supermarket.

They can facilitate self-checkout lanes.

Robots can palletize, De-Palletize, transport and inspect goods with ease.

They can do an effective inventory tracking by scanning close to 15,000 retail items an hour.
Human workers work in tandem with the robots. They merely assemble the order and then prepare it for delivery. Replenishing the stock works oppositely. Robots pick items from the drop off point and then place them in the appropriate containers. This type of functioning is a marvel for grocery logistics. The main crux of the matter is that there is heavy investment being carried out in the new massive automated warehouses.
What can go wrong?
Automation can wipe way human jobs, thereby increasing the unemployment rate –

Though robots can handle prescribed tasks, they cannot handle any unexpected situations

Robots don't have emotions or empathy. There are great disadvantages associated with an emotionless workplace.

Furthermore, Robots generally function based on the code that is embedded in their chip. Even if one thing goes wrong, the entire process falters.

Humans have to be trained to work with robots and there are significant costs attached to it as well
n case you want to build a grocery mobile app for your business, GrocersApp – grocery delivery app development company can take you through the process of building wholesale grocery app with ease. Create your own grocery store sales app at your budget-friendly cost. Contact our experts for a free consultation.