Grocery is a word that every household relates to. No matter which strata of income bracket does a family come from, everyone buys groceries. Given we have adopted westernization to a great extent, the families have transitioned from joint to nuclear, the number of kids per family have reduced due to more awareness about the safety of women and also rising inflation. With working couples, it's very difficult to physically go to the store and buy grocery every time. There is a heavy reliance on online grocery delivery apps for getting the grocery delivered at your doorstep.
You'll be surprised to know – FMI and Nielsen predict that consumers could be spending $100B a year on online groceries by 2025.
With such a strong market for online grocery, you might be wondering if it is a good idea to develop a grocery store sales app for your business?
Let's walk you through the pros and cons of building an online grocery delivery app.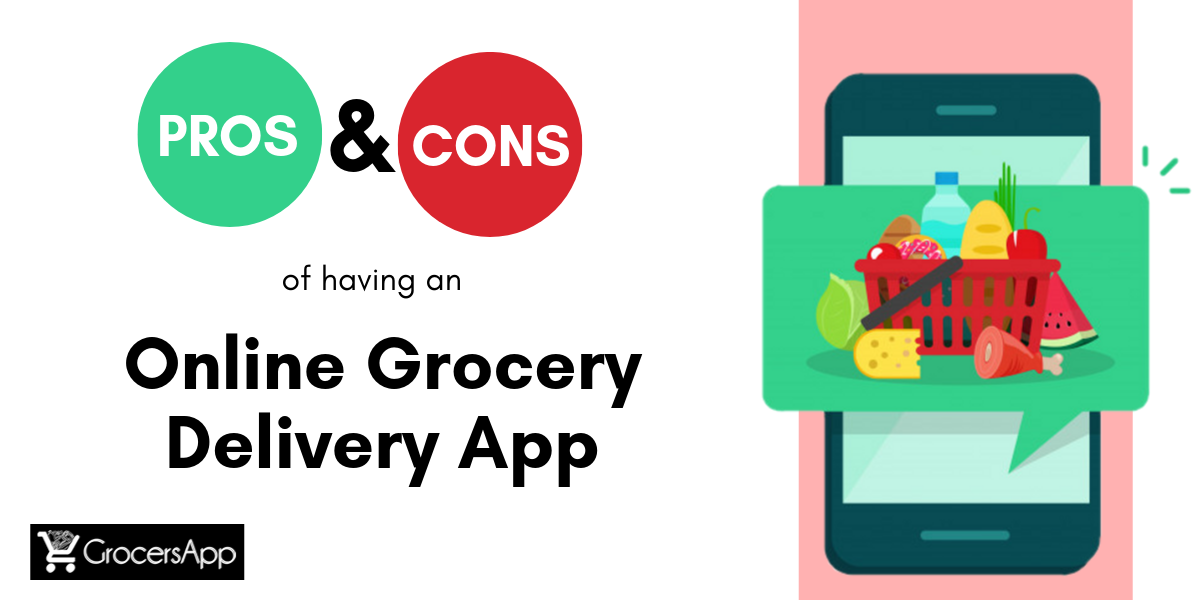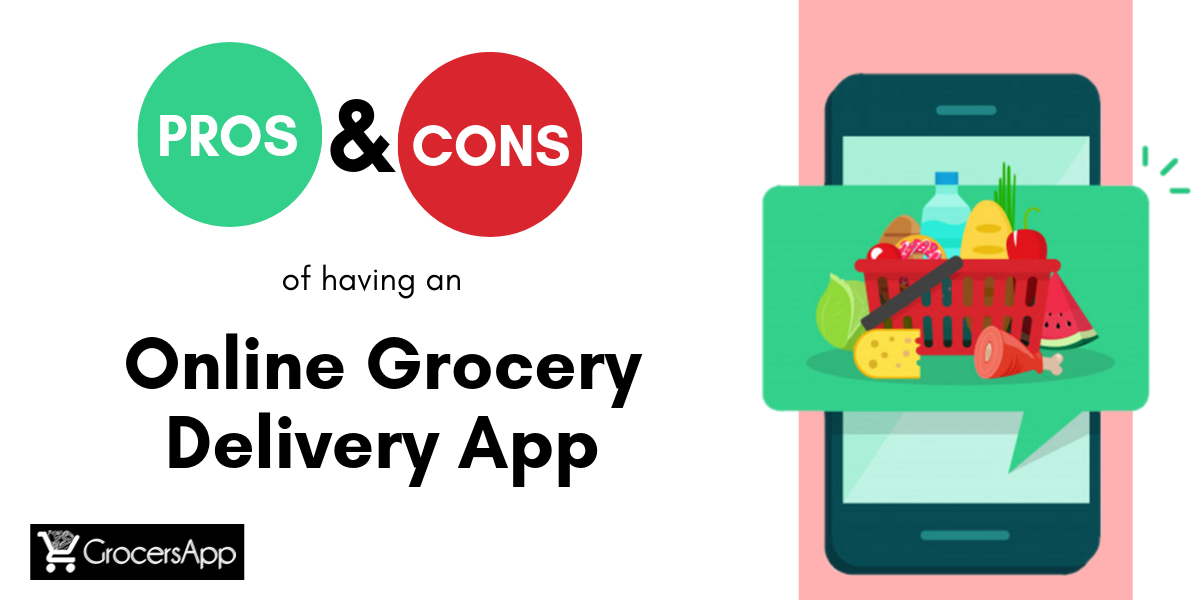 PROS of building an online grocery delivery app
1. The gift of customer loyalty
In this age getting a faithful user is not an easy job. You can't blame them either. There are so many choices out there that people generally switch to options where they have more lucrative discounts and wherever they'll get cheaper stuff.
Generally, existing users spend more time on an app than the new ones. If the service that you offer is exceptional and caters to all the grocery needs of a family, then you are bound to attract customer loyalty.
2. Critical Features for easy Navigation
With a grocery delivery app, you have everything at your disposal in sorted categories. Few enhanced features give a lot of flexibility to the users. Some of these features include –
Category wise navigation – You have all the toiletries, Veggies, fruits everything sorted into concise categories.
Three Dimensional illustrative pictures of items – This one ensures that the customers get a good look and feel of the product and they are assured that the product that will be delivered to them is genuine and not fake or a copy.
Virtual Shopping Baskets – This one is an interesting addition. You can keep adding and removing stuff from your basket, customize baskets for repeat purchases.
3. Facilities like Scratch Card and Digital Coupons
Now, who doesn't like some sort of discount coupons or lucky offers? Every penny that one saves by choosing one medium over the other counts. Offering free delivery as a gift for a regular buyer ensures that the customer feels that he/she is getting rewards for choosing your app over the others.
Having scratch cards ensures that the users are always engaged and have something to look forward to.
4. Convenience
This is a major aspect of online shopping, not just grocery. You get the privilege of shopping for groceries anytime 24*7. Generally choosing the favorable time slot for delivery, avoiding the hassle of parking and crowding queues specifically as people barge in on weekends to stock up for the week. Also, stores understand the perishable nature of the items delivered, they send the best quality items to minimize complaints from the customers.
CONS
1. Lack of physical touch and feel
Now, this one is a little old school. People are still paranoid about buying groceries online as they worry that they might get perishable stuff delivered at their doorstep. They feel that rather than taking the risk, why not go physically and pick fresh stuff up. Even once if they get disappointed with what is delivered to them, they might decide to never buy any grocery online.
Now, how can the apps find a comeback for this? Exceptional customer service is the answer. One out of a hundred times, it is possible that the items delivered are not of optimum quality. Every business should ensure that there is a provision of instant returns so that the users will not be charged if he/she is not happy with what is delivered.
2. Doesn't guarantee zero visits to the grocery store
Well, this one is a no brainer. While online shopping is a great idea for stocking up for the week, but there are some items that you have to physically go and buy. So, while online grocery shopping offers a lot of conveniences but it doesn't save you from visiting the store altogether.
And, then when you do end up visiting the grocery stores, you'll handpick other items as well. So, it can hamper the online grocery business.
3. Apps might not be everyone's cup of tea
Millennials are more of digital natives and know how to use the devices and apps efficiently. But senior citizens might not be that well versed with using apps. They might find it challenging to navigate across the app and order groceries. There might be payment issues as well. In the case of going to brick and mortar stores, it's much easier. You just have to pick items and pay cash.
How can apps deal with this? They can simply make the apps as customer-friendly as possible. There can be options of the demo for using the app, live chat features so that whenever someone has an issue they can reach out to the chat service and get live feedback from customer service personnel. 
4. Establishing Credibility and increased competition in the market
While consumers are looking to save time and money, shopping for groceries online isn't worth it if it puts them at risk of buying expired or unsafe foods. To gain consumer confidence many online grocery vendors must reimburse any subpar products or goods that got damaged in transit. Customers are generally skeptical to try new things to leave aside an important thing as grocery. It takes a lot of time for consumers to develop trust for a particular app. And, we so many options in the market people are generally spoilt for choice.
There are thousands of grocery apps in the market that have made people spoilt for choice. They generally keep switching between options wherever they can get more discounts. So, competition can make it a little difficult for online grocery businesses. They might have to think of constant updates or offerings in their app so that people remain engaged and interested in using their service.
Conclusion
Now, you are completely familiar with the top reasons to build up an on-demand grocery delivery app. An app for your grocery business can assist in taking your client experience to enormous heights. Also, that we have debated on the pros and cons of developing online grocery delivery app for your business, in case you want to build a grocery store sales app for your business, GrocersApp can take you through the process of building one with ease. If you have any query, write to us at info@grocersapp.com