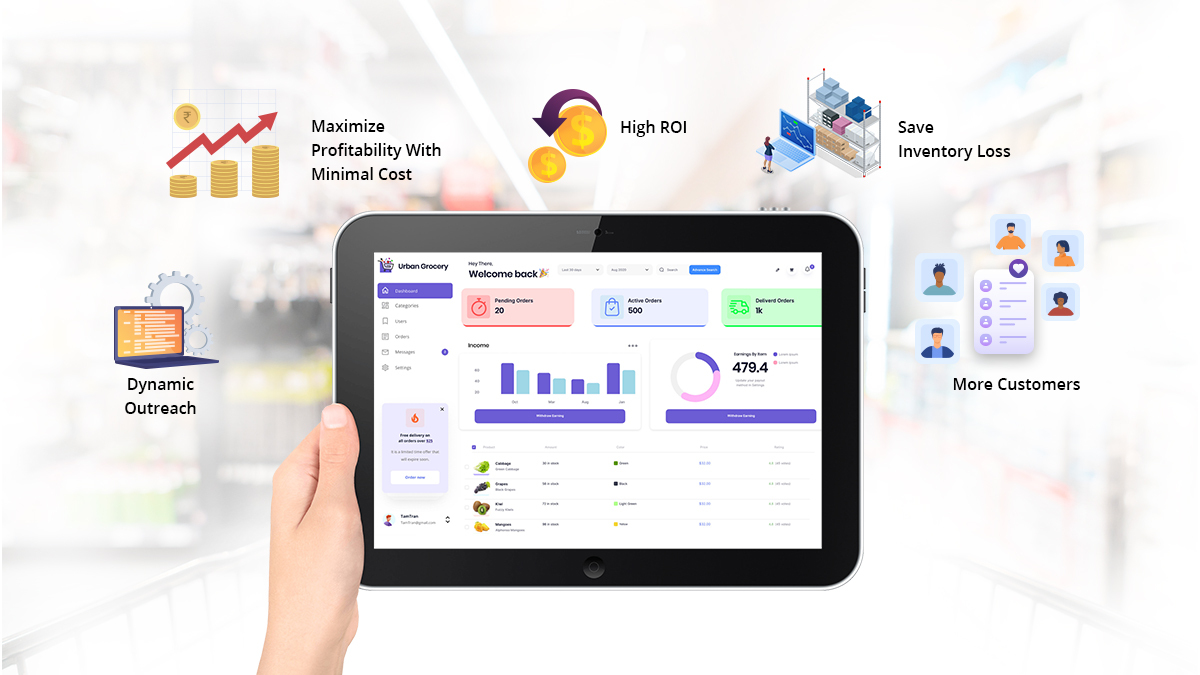 Often, grocery store owners face inventory challenges that impact the overall aspects of their business – from customer satisfaction to gross margin to ROI (Return On Investment). Besides the challenge of real-time visibility and manual processes, grocery businesses, unfortunately, deal with the pain of managing inventory to a great extent. 
Precisely, the inventory loss at the grocery store is more than double as compared to retail stores. 
This outlines the fact that growing business levels up the complexity of managing and delivering new orders. That's where inventory management software comes to your rescue. It's an ideal system automating manual inventory handling and allowing you to make your stock use more efficient.
You Don't Need To Go By Our Words; Here Are The Market Stats You Can Trust! 
According to a survey report

, 32% of grocers in the United States had a strong interest in investing in emerging inventory management technologies for real-time reporting.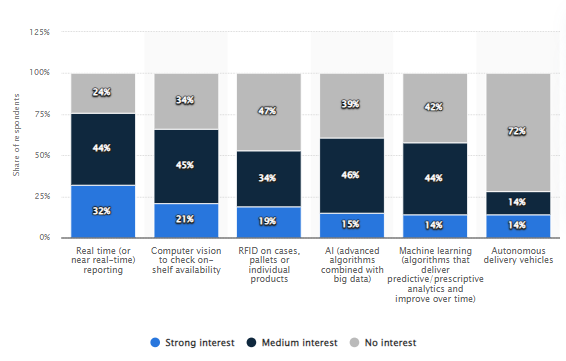 After considering these stats, it's fair to say that using top inventory management software helps businesses to keep track of all incoming and outgoing stocks efficiently. Also, it meets customer demands easily and quickly while cutting down the risk of overstock and stock outs. 
But, before you get straight into the process of hiring a grocery app development partner, let's look at how IMS solutions address challenges through a huge host of benefits.
5 Ways Inventory Management Software Addresses Challenges in Today's Era 
Inventory management challenges arise in different ways, but eventually, they all lead to one of the three problems:  too much inventory, not enough inventory, or lost inventory. So let's look at each of these challenges more closely and understand how implying an IMS is beneficial to overcoming them. 
# Challenge 1: Storage and Freshness of Grocery 
This is a crucial aspect of the grocery business. Since you can't deliver groceries to customers straight from the farms, it's critical to use the right approach for storage before being offered, packed, or ordered. Furthermore, grocery items are needed to keep fresh, which is a challenge that a reliable system can only manage. 
Solution: 
The most significant benefit of integrating inventory management software is automation. This helps you with real-time visibility on inventory levels as your stock counts automatically update after a sale is made. Also, this feature allows for delivering an excellent customer experience by avoiding overstocking, stock outs, and Inventory management challenges.  
# Challenge 2: Inventory Loss 
Another big challenge in managing a grocery store is inventory loss because of spoilage, theft, or damage. Moreover, grocery items become non-consumable due to expiration date if not sold in time, resulting in a decline in potential profit. 
Solution: 
A good inventory management software can help in managing the shrinkage problem. Besides, it allows you to keep track of inventory data in real time to help you know your stock's lifecycle. As a result, organize the older products or items with a short lifespan in a manner they get sold first. 
Besides, you can ask your partner grocery app development company in India to include the feature of item tagging with barcodes and mobile scanners in your IMS to minimize the chances of human mistakes and inventory shrinkage. 
# Challenge 3:  Phantom Inventory 
One of the initial challenges of inventory management is phantom inventory. When your inventory stock level mismatches with the products you have in stock, it gets tough to make the right decision for your store.
Solution: 
A good inventory management software helps address the challenge of phantom inventory with the POS (Point Of Sales) feature. The IMS validates the list with sales data from the POS system for a kickstart. Besides, it will shed light on any mismatches, direct you to the root of inventory concerns and help you notice and resolve the issue ASAP. 
# Challenge 4: Maximum Warehouse Efficiency with Minimal Cost
Managing warehouse space efficiently is uphill. From planning and designing warehouse spaces to accommodating grocery items based on their shapes, sizes, and shelf life can be intimidating. Further, tracking inventory at a warehouse for managing grocery orders involves many labor-intensive steps. These include receiving, storing, packaging, and shipping grocery products. 
So, all in all, warehouse management, if not done efficiently, can result in overstocking or understocking of products creating a gap in demand and supply of products.  
Solution: 
Despite the size of your business, integrating inventory management software in small businesses addresses warehouse inefficiencies with performance metrics like inventory turnover, processing speed, customer satisfaction, and many more. Besides, with an IMS, data can also be tracked to monitor historical and seasonal trends
Furthermore, an inventory management system – optimizes storage space, maintaining the right flow of inventory. This also helps in automating the process of picking, packing, and shipping resulting in space optimization. 
# Challenge 5: Chaotic Customer Service
The lack of real-time monitoring creates unnecessary delays in query and complaint resolution that leaves consumers dissatisfied. And, recurrence of such incidents creates distrust among customers damaging the business to a great extent. All this hassle leads to a mismanaged inventory ultimately leading to unsatisfied customers. 
Solution: 
An IMS keeps a real-time track of inventory movement that helps in quickly identifying the point of failure and accelerates the complaint resolution process. This way it becomes easy Besides, including a POS feature helps business owners keep track of the stock level, which helps with forecast analysis and meets the future demands of a growing customer base. 
Final Thoughts
In today's scenario, customers look for quick, easy, and affordable solutions to cater to their needs, and grocery shopping is no exception. Thus, it's inescapable for store owners to offer an unforgettable shopping experience to thrive in this increasingly competitive landscape. 
So, grocery businesses must ensure all the elements of their operations, varying from employees to cash management safes, are synchronized to deliver exceptional experiences that keep shoppers craving for more.  
If you plan to have your own grocery app in minimum time with maximum customer satisfaction and revenue, contact the industry's experts. After all, with the right inventory management, your business has upheld better chances of profitability and revenue.