Direct to Consumer brands like Zappos and Warby Parker opening their physical stores reiterates the fact that touching, feeling and having a personal experience of using visiting the store has still not faded away completely. There are close to 12-13% of people who are relying on apps to service their day to day needs, but the experience of visiting a store and handpicking things hasn't become obsolete yet. One area where people want convenience but still don't trust online delivery services completely is Grocery. People still like to go Grocery Shopping every day.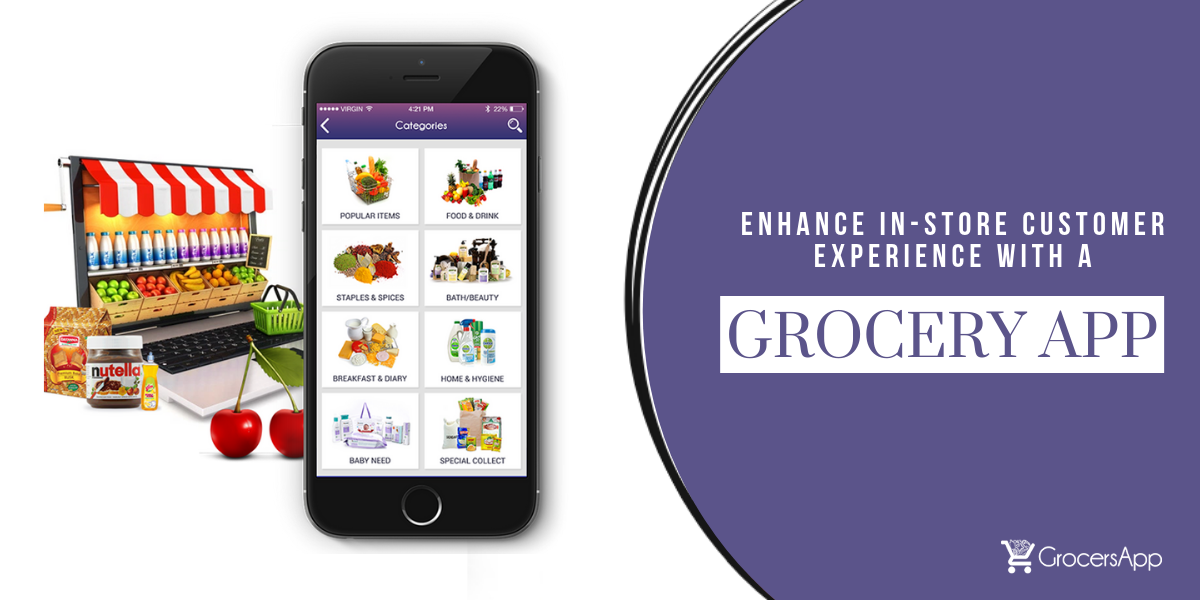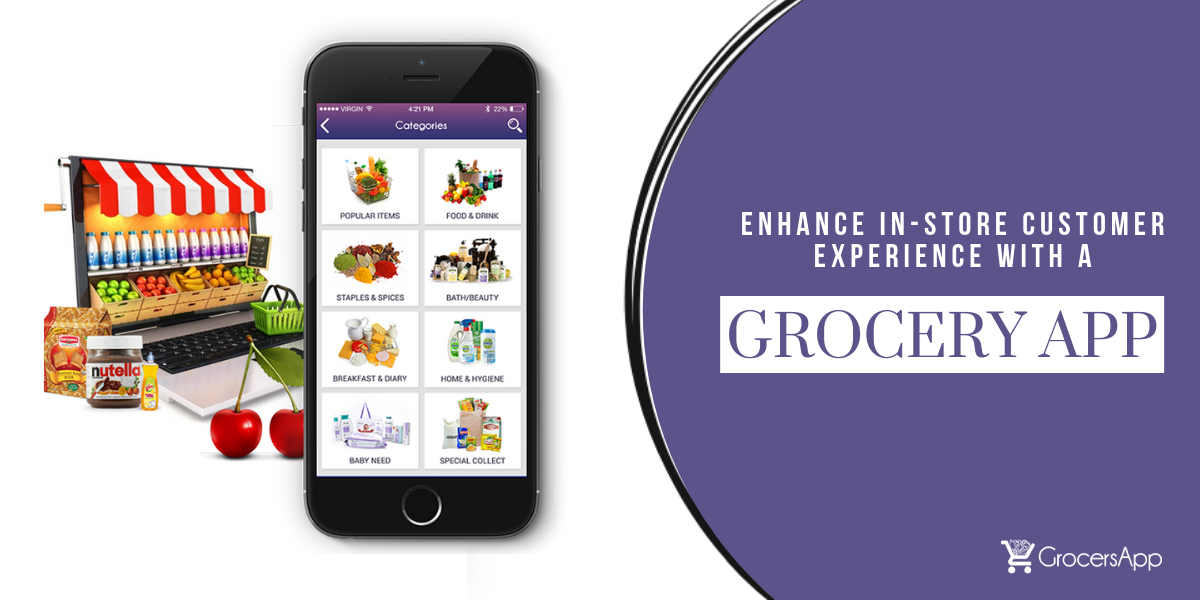 This highlights one fact boldly that customer engagement is very important for the success of any grocery delivery app. Customers have to feel that they are a part of the process and are involved completely while buying groceries for home. For grocery businesses customer is king. Competition is so intense that your offering has to stand out. In case your grocery store sales app is not up to the mark, within no time your customer might switch to a new app. 
So, it's very important that there is optimum customer engagement in your digital grocery app. Now how can this be achieved? In varied ways. Let's explore a few –
Features of a Grocery App
 1. Live Chat
Having live chat can be a great feature in your digital grocery app. In-store staff can be available for all customer queries and concerns. This especially helps elders who are not that tech-savvy and would require some handholding to navigate the app with ease. Through chats, the salesperson can highlight which products are at discount, which is the best quality product and so on. 
For Example – They can explain why one variant of tomato is more expensive than the other one. Also, there can be a full explanation of the nutritional value of each of the grocery items.
A survey also suggests that 80% of customers were on-board with the idea that grocery salespeople can have access to their digital engagement and provide them a seamless shopping experience
 2. Customer Feedback
Your app should provide a feature of getting customer feedback after every purchase. It's very important to get qualitative feedback once you roll out the app. You can ask questions like what other supermarket mobile apps do the customers use? What features those apps have that should be embedded in your app? It's also important that you have the policy of upgrading your app by adding features suggested by the customers. Checking the feasibility of enhancement is to be checked at every stage though.
There can be a small feedback survey sent at the time of delivery as well. This can ensure that you are receiving valuable tips to upgrade your offering at every stage of the offering.
 3. Artificial Intelligence
A great example of customer engagement using AI is Amazon Go. It has a very interesting concept. There are no cashiers and checkout lines in this grocery shopping experience. Shoppers have to activate the smartphone app when they enter the store, grab the items that they require and exit via the gates. Their Amazon account automatically gets charged according to what they take. Isn't that awesome. It assures the user that they are handpicking the items and they don't even have to carry their wallets. AI via predictive analytics can also gauze the inventory needs, analyze customer behaviors and also help in theft protection as well. 
Apps can aid not only the customers but the employees of the store as well. They can guide them about restocking the shelves, fixing the pricing discrepancies and placing the correct shelf labels.
AI can augment the human customer service as well – Bots can do the routine tasks and can involve human interaction wherever necessary. For Example – When a person logs in to your app – All the authentication and sign in and general inquiries in the chat can be taken care of by the bots. But when a customer asks a certain question which is more personal like – Will this type of bread be suitable for my daughter who has an allergy to refined flour? These questions can be redirected to a human customer service agent.
 4. Being the Shazam of Grocery Apps
This can be a very useful feature in any app. Image recognition will be used in this. For example – you can scan the label on any item once you visit the store via the app. With that, you'll get to know the history of the item. What is the area of origin? how old is the item? what is the best before date? What are the different variants of the product? How are the equivalent items priced? 
The overall shopping experience is hereby improved as it has encouraged the customer to engage will all brands of a particular item in a store through the unique mobile-centric interaction.
 5. Use of store centric coupons
70% of grocery shoppers expect more personalized experiences while buying grocery. Also, a lot of customers believe that coupons are the most valuable form of mobile marketing. If customers are aware that a particular coupon will work in-store and they are incentivized to engage with the brand's product there are bound to be repeat purchases. 
 6. Creativity through Technology
To enhance the customer experience, apps and stores can team up with gaming technology providers to fuel at the checkout lottery experience. Customers can spin the wheel or play a game and win something at the end of their purchase. This type of creative digital interaction not only makes a mobile app for grocery shopping super hit but also ensures that the customer base gets strengthened within no time. 
The plus point of being in the grocery business is the frequency of purchase. It's an everyday requirement and families have to make multiple trips each week to keep their fridge fully stock. That makes it all the more important that grocery apps are heavily engaging customers and giving them such a great experience that they keep using the same app every day.
GrocersApp brings food, technology & convenience at a common pedestal by helping a business get your mobile application. We bridge the gap between the grocery store & their customers. If you have any queries, write to us at info@valueappz.com.