In this era of digitalization, with a mandatory 40-hour work week, everyone is looking and craving for one thing – Convenience. For every small thing, people are relying on their smartphones, specifically, apps to ease out their otherwise hectic lives.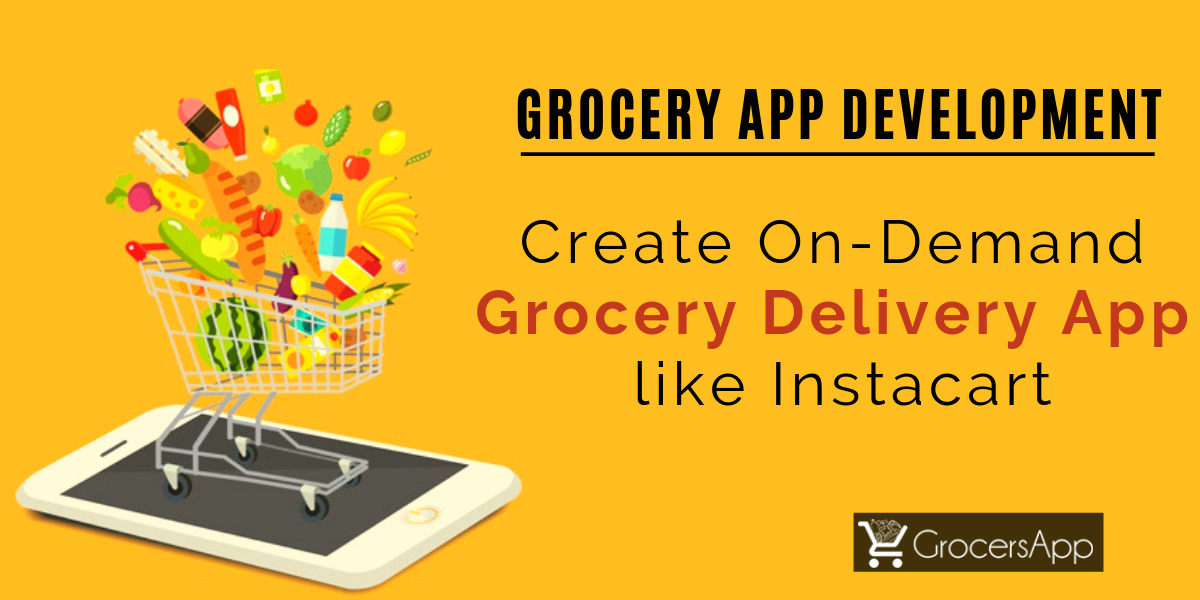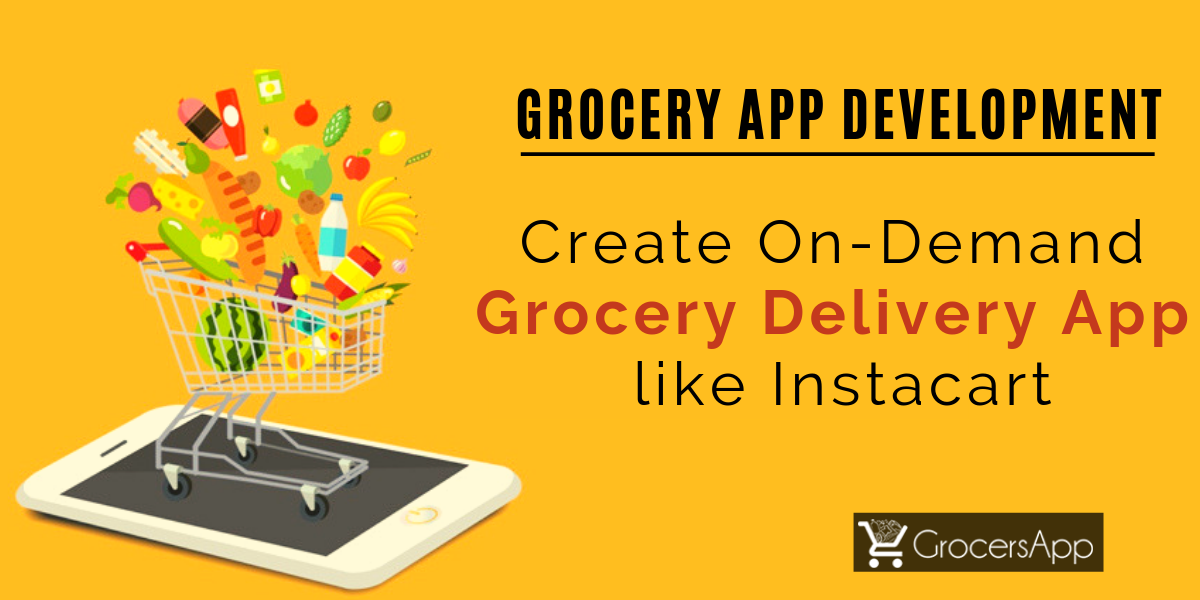 Be it commute (Uber/Lyft), fashion (ShopStyle/Fashion Kaleidoscope), Electronics (Amazon), Travel(CityMapper)you name it and there is a ready app available to sort out your everyday problems. Another major hassle that people face especially working women and even housewives for that matter is grocery shopping. Gone are the days when females used to walk to the supermarket every day and fetch regular day to day kitchen supplies. With big players like Big Basket and Amazon Pantry (Amazon's entry into grocery via its acquisition of Whole Foods), regular grocery is just a few clicks away. A survey suggests that by 2022, almost 10% of all grocery sales will be made online. Due to the ease of access and time sensitivity, people are gradually shifting to online grocery shopping rather than running to the local shops for a loaf of bread or veggies.
Grocery Delivery App is the new buzz for our tech-savvy shoppers. On-demand, delivery follows the marketplace model. By Marketplace we mean minimum two parties, one on the demand side other on the supply side with an additional clause that users expect an instant response to their demands. There are multiple types of Grocery Delivery Apps, with great emphasis on On-Demand Grocery App Development –
Regular Aggregators – They will list the different stores available in your area. You are free to choose one and then select the items from their menu. The onus of delivery lies with the store owner.
Marketplaces – Similar to regular aggregators but they have a separate dedicated team of delivery folks.
Stand Alone Stores – Many local stores have made their independent apps where you can place an order and get the groceries delivered at your doorstep. They are usually restricted to a particular society/area.
Grocery Chains – Nature's Basket and Grofers fall into this category. These are huge online suppliers of grocery and have a presence across multiple cities.
With the presence of the internet, the economy has shifted from Sharing to On Demand. People want everything tailor-made to their requirements. On-Demand Grocery App Development is one such area that is gaining popularity. It can be tedious but can expose you to various customer needs and then serve the final goal of diverting traffic to your app and growing your business. Some focus areas in this process can be –
Logistics and Consultation – Go and socialize with the nearby wholesale merchants/ shops to understand what are the demands of your target audience. A transporter can give you a rough estimate of delivery charges, number of trips. A technology consultant can give you exposure to the latest technology that can make the app fast and easy to use.
Analyze your market and the key competitors – Tools like SWOT Analysis of customers, Gauzing Competitive Rivalry (Number and Strength of competitors), Supplier Power, Buyer Power, Threat of New entrants can help you understand the market better.
Here are the few tips and tricks that can help you in On-Demand Grocery App Development:
Tie-ups with multiple grocery stores for instant provisioning

– For Example – If you are provisioning 10 areas you need to get in touch with multiple local stores so that if one store is in short supply of a particular thing the other can be a ready backup. This also reduces over-reliance on a particular vendor, which means more defaults and more customer dissatisfaction.
How do apps make this system a win-win situation for the users? They ask the vendors for discounts. Now, the vendors can offer their products at wholesale rates
as they have an increased number of buyers. It creates economies of scale for them as well,  as there is more traffic. There needs to be a delivery agency as well, which will charge a delivery fee that can be included in the bill itself.
Regular features

– For ease of use, the app should have multiple features like easy signup procedure and an alternative feature of signing up with Google/Facebook that makes it more convenient for users.
Forgot password facility and verification of email and phone number so that the bill and the order details can be shared with the customer as and when an order is made.
Another interesting aspect can be a referral bonus and points on a minimum purchase. This increases the chances of people revisiting the same app for their everyday requirements.
User Interface

– Simplicity is the key in this one. Apps should be made in such a way that they are easy to use. There should be appropriate illustrations in the form of – An actual picture of the product, display of its MRP, Clear indication of discount if any, Option to select the quantity.
There should be well-defined subcategories like – Gourmet & World Food, Snacks and Branded Foods, Fruits and Vegetables, Bakery, Cakes & Dairy, Beverages, Eggs, Meat & Fish, Foodgrains, Oil and Masala. This makes it easier for the users to navigate across products and add the desired items to their cart quickly without having to think too much. Customization is the key in On-Demand Grocery App Development. The UI should be as customer friendly as possible.
Easy Checkout and Payment Options

– It's very important to give users ample options in this zone. Specifically, to an Indian audience. Options like Cash On Delivery, Google Pay, Paytm, Payment via Debit/Credit cards should be made available so that it's easier for the user. An option to save the user card details also helps as it saves them the hassle of entering the details again and again. This is one of the most important features in grocery store sales app.
Customer Location

– It's important that the customer location is pinned on Google Maps as it helps in connecting to the nearest vendors.
Delivery Type

– There can be multiple categories in this. Some people tend to order all the basic items for one week specifically on a weekend when it's easy for them to receive it, so standard delivery can work in that case. There can be options of Express Delivery and 1-hour delivery where the users have to pay certain extra charges but there will be a surety that they will receive their items faster.
Grocery Delivery App Development can be a challenging process with a highly competitive market. A starting step towards this can be Clone App where you recreate a new app that is similar to an already existing app. This can give you some direction and then further modifications can be made using customer feedback.
Example: Instacart Clone App – You need to enter your details like mobile number or email address or you can also use your social media account for login. Then you have to add your current location where you want to deliver your order and search the item you want.  The payment system is also very user-friendly. Another essential aspect is to test the app. Make sure that varied people use the app and explain the experience. It should mainly include housewives, working women, men, senior citizens. The app should be user-friendly to all these subgroups as they are the major grocery shoppers across the globe.
In case you want to build your own mobile Application for y our business, GrocersApp can take you through the process of building one with ease. If you have any query, write to us at info@valueappz.com