Online grocery delivery is gaining a lot of popularity these days. Did you know that Digital grocery sales estimation in the US is to reach $59.5 billion by 2023 from $23.9 billion in 2018? 48% of US grocery shoppers currently purchase at least some of their groceries online, and 59% intend to in 2019. 25% of US grocery shoppers plan to shop 40% or more of their grocery shopping online in 2019.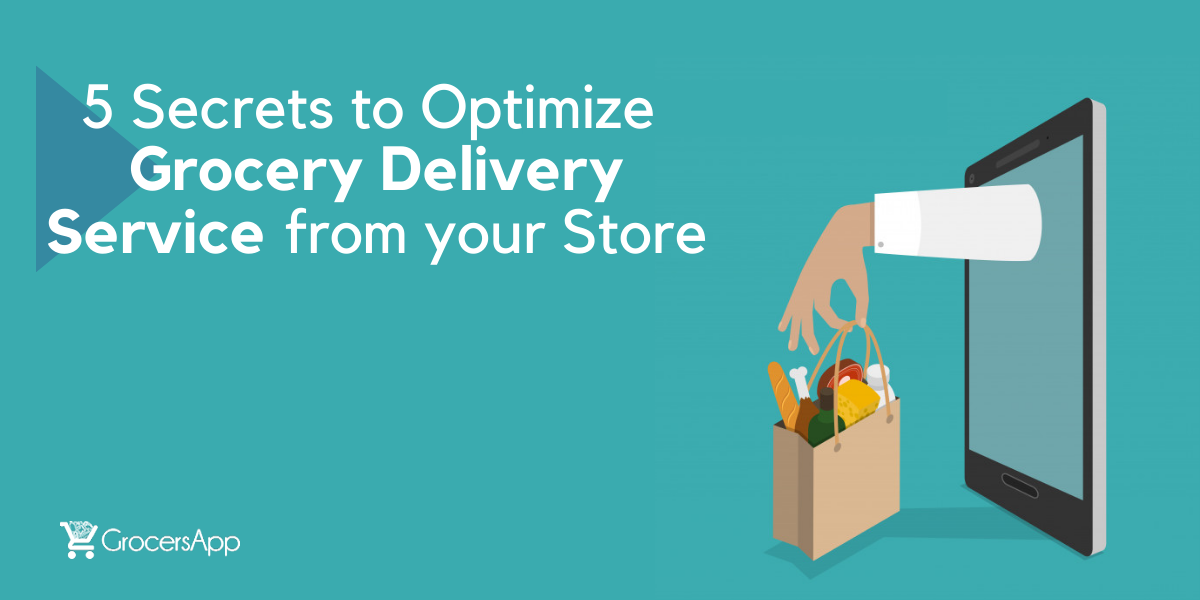 Such trends encourage more brick and mortar stores to offer home delivery service. But there is one thing to ponder over here. How can a particular business optimize grocery delivery from their store?
Let's explore some ways in which you can optimize online grocery delivery service operations:
1. Optimizing the grocery supply chain
Before we deep dive into this, it's essential to understand what can go wrong in the grocery supply chain and can cause losses to a business.
There can be – Temperature Lapses (Foods like meat, eggs become unfit for consumption if they are subject to more than a minimum temperature). Poor Packaging (Moisture and Airborne bacteria can enter your storage items).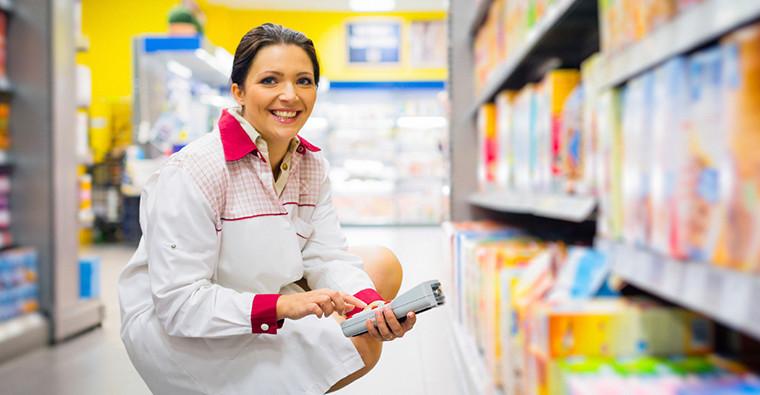 Contaminated Product (When products that you receive have molds or fungi, they are bound to get rejected). All these factors can cause rejection of the entire cartons of items, which can cause significant loss to the business.
Three ways to optimize the operations:
Employee Training

Maintenance and Inspection
Improving Technology.
Related Read: 5 Things That Make Online Grocery Stores Better
A lack of awareness often causes product damage. Training employees with periodic training updates can counter temperature lapses and product damages. Maintenance and Inspection help in reduces losses due to equipment failure, especially pallets and cartons. Making use of lightweight alternative materials for palette and packages makes them safer and lighter while saving energy and fuel costs.
2. Optimized picking routes
Each trip for delivery of groceries has to be efficient as possible, covering all possible adjoining orders as well. The store manager should group the orders by collection or delivery time slots. Also, there are multiple areas where people make repeated purchases and where there are numerous residential areas. Make sure that the delivery personnel is getting allocate accordingly as well.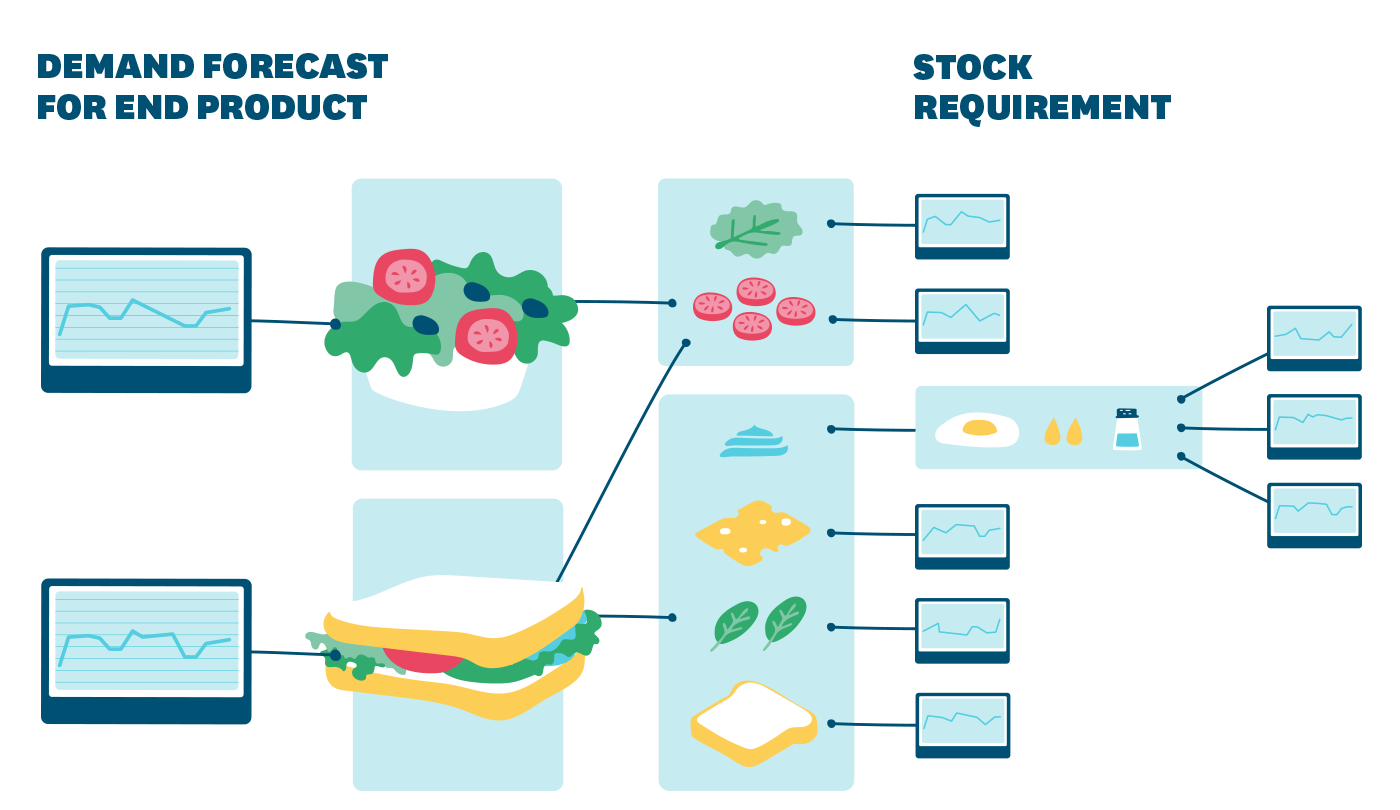 There are other options as well like:
Multiple Order Picking

Individual orders are visualized with colors, making it very intuitive for the picker to see which products belong to which request. 
Furthermore, an online grocery delivery app can help you and the customers with order tracking using maps. The grocery delivery service system also makes sure every customer gets the right product.
3. Optimizing Demand Forecasting through the power of Artificial Intelligence
Demand Forecasting is an essential aspect of any supply chain. With so many purchases happening everyday, there is a lot of data getting generated on an everyday basis. Singularity is a new aspect that is picking up in AI. Uniqueness means an AI of such intelligence and power that it starts to independently develop and improve to the extent that renders us inferior humans redundant in some apocalyptic future.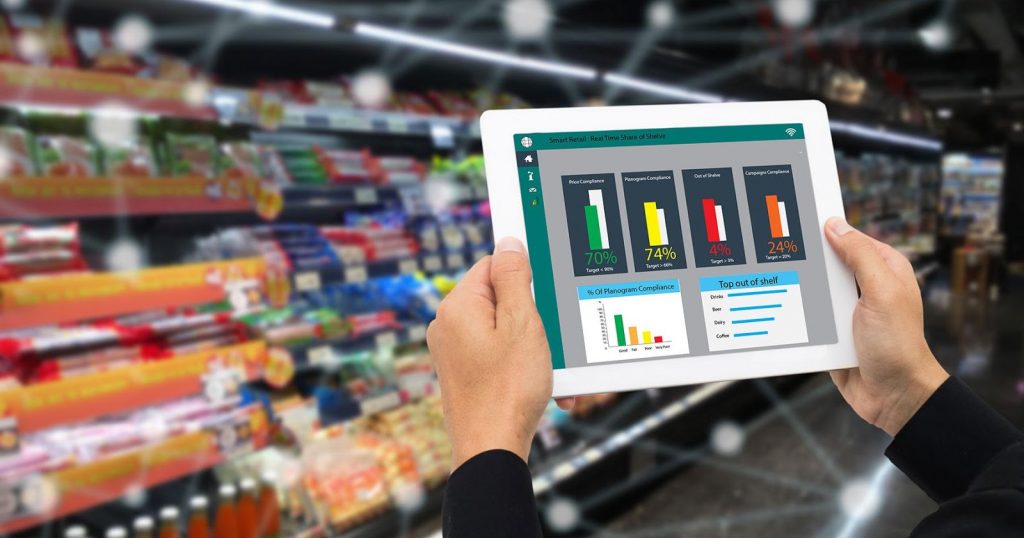 With the cost of data processing decreasing, it's relatively easy to predict and forecasting demand. The only shortcoming in this is that the consumer trends keep changing at a high rate and also external factors like highly unusual weather in several parts of the world. 
Forecasting can be done in one of three ways:
a. Baseline Sales/Time Series Forecasting – This means the present demand if nothing changes.
b. Impact of internal commercial decisions/Causal Modelling – What effect does the in-store display or pricing have?
c. The third is the Impact of external factors/Machine Learning – How weather changes and competitor price changes affect the demand for our products.
In this, situation AI does play a significant role here. You can notify your customers about the availability of the products based on their previews orders using your grocery store sales app notification features.
4. Optimizing Replenishment through Machine Learning
Machine learning solutions are available as cloud-based, Software-as-a-service applications. Order proposals for the entire production chain can be generated every 24 hours though some spot checks can be done by humans here, though it widely noted that human intervention is rarely warranted.
SaaS applications like grocery delivery web-apps, are more flexible and faster to implement compared to other IT systems. Such predictive applications enable the automation of central planning and decision making for orders.
Machine learning algorithms also help retailers in determining the optimal stock levels, taking both wastes and lost sales into account. 
5. Optimization by gaining consumer loyalty
With such a widespread competition for grocery delivery and grocery services, it is becoming tough to win customer loyalty. Hyperlocalization is of utmost importance today. Consumers want to know precisely where they are getting food and groceries.
There are other things like partially cooked meals that are becoming major hits in families these days.
The most popular sections are:
Appetizers, Salads, Entrees, and soups.

Pre-marinated meat and chicken also helps people in cutting down the additional time that goes into preparing the final dish.
Bonus tip to remember:
Fast and valid last-mile delivery increases customer spend and loyalty: 
Encouragingly, 74% of satisfied customers intend to increase spending by as much as 12% with retailers they frequently purchase from.
65% of customers use alternative grocery delivery services – such as Google Express, Instacart, or Ocado – for better services than from traditional retailers. It's vital that you can keep the user engaged through discount coupons, reward points, and special offers and services.
Conclusion
Don't you think these optimization strategies are eye-openers? While offering excellent customer service should never be compromised on its essential to ensure that you are introducing efficiencies into the processes wherever possible. As reiterated many times, data is the new oil. There is so much you can derive from the customer's database. 
After checking the insights, you do understand how technology plays an important role & how it can help a business. In case you want to know more about the grocery industry trends and build a Grocery mobile app, GrocersApp can take you through the process. If you have any query, write to us at info@valueappz.com