Lines between digital and physical spaces are blurring. Grocery shoppers are way more comfortable shopping online than going to the stores physically.
The reason for this shift?
Supreme Comfort

E

ase-of-shopping

C

onvenience

A rich assortment of shopping

Personalized bargains

 
And, a lot more!
Retailers are winning the grocery business via rich-featured business solutions. The rich technology allows them to meet the grocery buyers' blooming yearnings.
Besides, given the state of the budding digital grocery trend, online shopping appears to be the approaching big thing in the world.
As per Business Insider, the coronavirus pandemic is propelling the grocery business into the spotlight in the United States.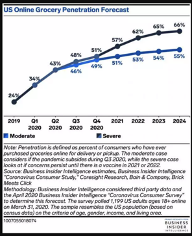 Source: Business Insider
Consumers are relying heavily on digital grocery in 2023, to be precise. Digital grocers are active like never before, especially after the quarantine grew.
Here's the proof!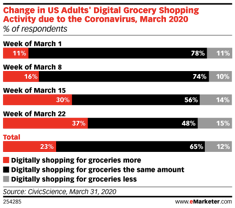 Source: eMarketer.com
These trends are proof that digital grocery shopping is already on the path to becoming the next big thing in the 'online shopping world.' Coronavirus has changed it all, it seems.
As per Supermarket News, 'Online Grocery sales will grow 40% in 2020-23.'
Nearly half of the grocery shoppers are buying groceries online because of the pandemic phase.  
What is an Online Grocery Shop?
Now we know there is a paradigm shift from physical to digital grocery. Consumers are ordering everything online.
But what exactly is an online grocery shop?
"It is an online platform that allows retailers to sell their grocery products via the web."
This is a fair chance to accelerate business and profits for all, and the business size doesn't really matter for digital grocers.
Advantages of Online Grocery Store for Consumers
It is a time-saving alternative for consumers.

Numerous payment options are available for quick online shopping.

Be it daily, weekly, or monthly, shopping is done in a jiffy.

Digital grocery shopping saves money by allowing exciting discounts & offers.

Surfeit options to shop the grocery from (multiple brands).

Satisfies consumer's personalized grocery needs.
The paybacks enjoyed by the consumers are some highlighted reasons for grocers to shift to the digital grocery store.
Let's see how online grocery stores benefit grocers!
Advantages of Online Grocery Store for Grocers
Better business visibility is experienced, as you are listing your store online.

Higher opportunities for a flourished grocery business.

Registering a grocery store online enhanced earning opportunities.

Quality products boost better income.

Higher chances of business growth and profits.


9 Reasons to Invest in an Online Grocery Store
Why should a grocer rely on a successful online grocery store?
Setting up an online grocery store might seem complicated. Nevertheless, sales and profits are bound to increase.
Here is an insight into the well-researched reasons that will help you in leading a successful online grocery store:
1. Slightest Start-up Cost
Yes, it wouldn't cost you an arm and a leg. Commencing an online grocery store is simple.
The start-up cost is minimal. Decent time and effort are required, though.
Grocers don't need to buy a formal space but invest in technology that allows their customers to shop for grocery products online.
Starting a grocery business is easy and doesn't really cost much.
Hence, almost anyone can lead an online grocery store.
3. Adaptable Working Hours
Undoubtedly, digital businesses are time-saving. The e-grocery business allows you to enjoy flexible working hours. It depends on you, whether you wish it to be part-time or full-time.
Many people opt for an online grocery business as part-time along with their regular jobs.
With highly adaptable working hours, online grocery stores allow you to augment your revenue.
Therefore, you can easily switch between your regular job and online grocery business for higher returns and profitable business.
3. Satisfies Consumer Necessities
An accelerated consumer shift from physical grocery shops to digital is trending. Customers are looking for comfort and ease of shopping.
Right now, convenience is chosen over price.
That's, perhaps, one of the best reasons why grocers are opting for an online shopping business.  
It, certainly, is the apropos solution for every grocer and grocery consumer, considering the busy lives and ease of shopping that everyone desires.  
4. Speedy Cost Comparisons
Your customers don't have to visit multiple shops to find the best deal. Online grocery shops allow your customers to compare prices online, without visiting any grocery store physically.
They can easily compare prices in online stores, pick the best deal, and buy stuff online from the chosen store.
5. Customized Grocery Solutions
Allow your patrons to experience personalized grocery shopping services with your online store.
You can offer customized stuff for health freaks, diet eatables for those looking for weight loss, and timely offers on different products.
Highlight something 'valuable' in every section, so that your customers can avail of extra benefits utilizing your grocery stuff.
Customized grocery solutions can keep your patrons happy, allowing you to keep your customers hooked.
6. Certain Industry Evolution
The grocery shopping industry is so in demand that Statista said that grocery sales would touch $18 billion by the end of 2020.
Grocery stores online are increasing almost three times with every passing year.
New players are bound to get new opportunities, while consumers will experience impeccable online grocery solutions with seamless services of stores online.
7. Quick Business Growth
Since the world is after digital shopping, it would be a smart move to follow this hot trend.
Your targeted customers are online!
Why wouldn't you just hit the right spot where all your customers are waiting for your services?
An online grocery store is just an apt solution to contain all your shopper's needs.
Target the big market itself, and your physical grocery store would barely need any marketing.
Expect quick business growth, if you are a start-up.
How?
As a newbie, you might have limited funds and resources. Commence your online grocery store and save effort, time, and money.
Doesn't it make sense to begin small and yet target a huge number of customers online?
Your business will receive a great platform and customers, which is the ultimate target of any business.
8. Effective Business Solutions
The bitter truth of any business is that if you don't market it right, it won't survive.
Sell groceries that are high in demand and target potential customers to give your business a boost.
Customers demand a digital grocery shopping experience! And, it is important to satisfy their needs by providing effective grocery shopping services.
You must be ready to compete with the innumerable competitors out there. 
Make sure to build an impeccable online presence by building your online grocery store to deliver timely services to your customers.
Research and scrutinize how your competitors are working. Follow the strategy to commence, sustain, and grow your grocery business online thereafter.  
Also, find out if there is a specific niche that is still not targeted by your competitors.
If you manage to do that, it will be easier for you to sustain yourself in the grocery market and rule it.
9. Transparency
Your customers are smart and they understand the businesses more than ever before.
Follow a transparent grocery delivery process to maintain the utmost transparency in your business – between you and your customers.
This gesture will not only build trust between you and your patrons but also give them a solid reason to stick to your grocery store online.
Your customers will get quality products, timely delivery, and reliable services if the proper delivery process is maintained.
The best way to sustain the grocery business is to maintain quality services and keep the process transparent.
Planning to Start Your Online Grocery Store?
Great, opt for a good grocery app development company, and make sure to do your research before you select one. It highly depends on the development team you choose and how your online store will perform.
So, research the market, probe into their skills and experience, and then finalize your grocery app development team.