Grocery is something which is a necessity for households, region agnostic. A family visits a supermarket twice every month on an average. This task can become a burden with the hectic schedules that people have these days.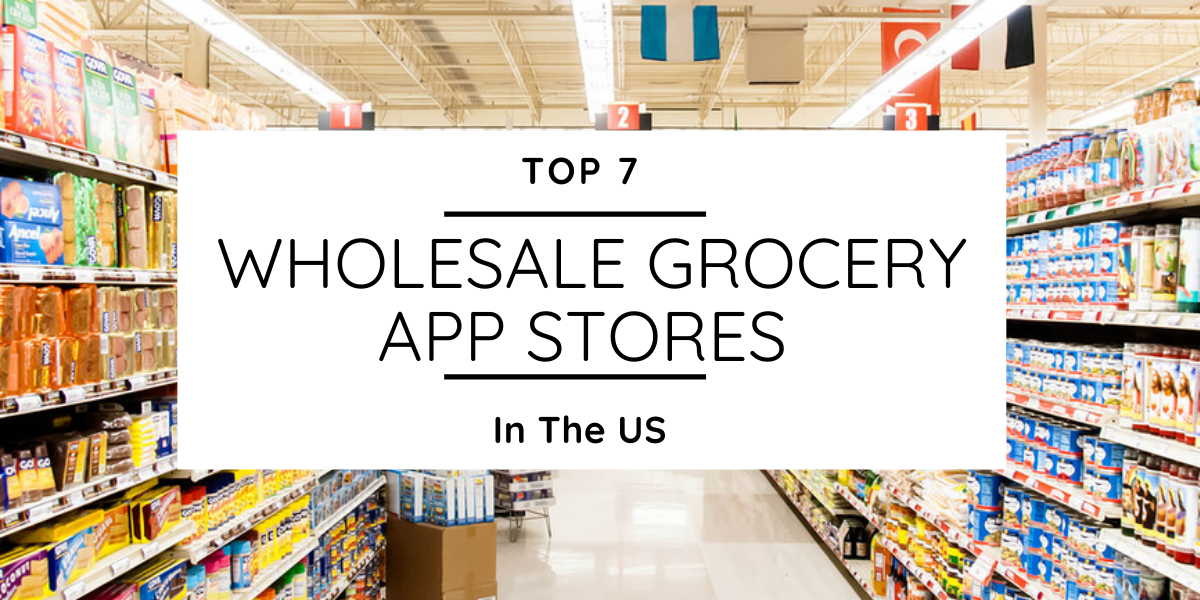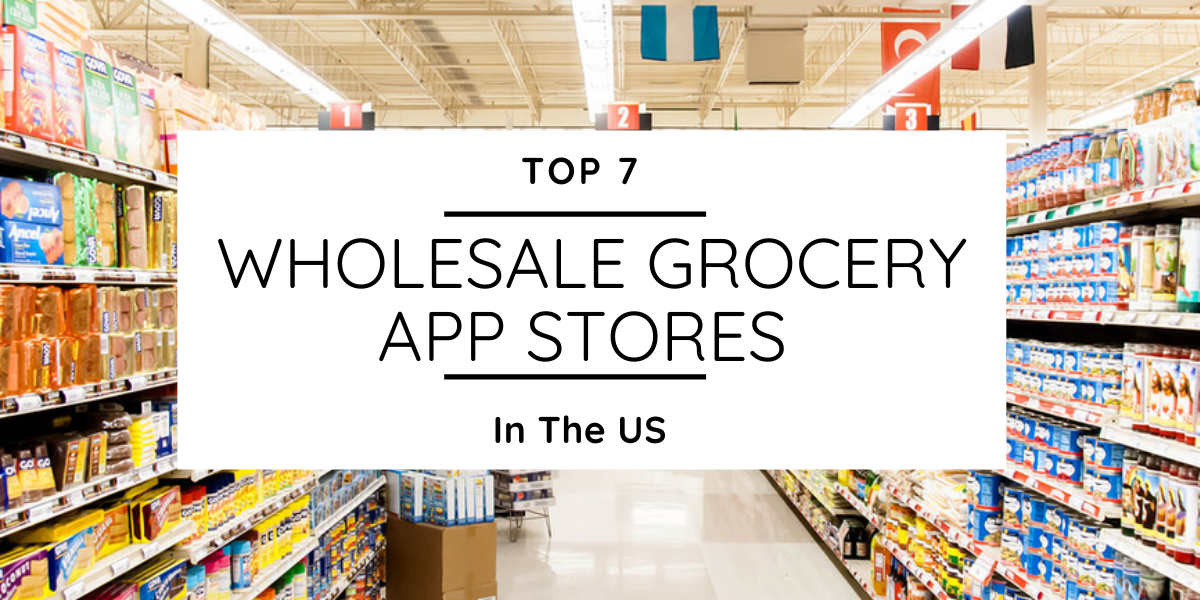 To ease that out, some grocery retailers have made their services available on the grocery store sales apps and other platforms in addition to the already existing brick and mortar stores. Curious who these players are?
Let's unveil the top 7 wholesale grocery app stores in the US
1. Kroger Co.
Let's layout a few fun facts about Kroger. It is the country's largest supermarket chain by revenue and the 18th largest company in the country. Founded in 1883 by Barney Kroger, in many ways it has invented the modern-day grocery store as we know it. It's the first store to introduce electronic scanning and consumer research. 
Kroger was the first store to be surrounded by Parking Spaces. A few other supermarkets and Grocery chains under Kroger are – Dillons, Harris Teeter, Ralph's, Smith's and Fred Meyer. 
Kroger also had a partnership with Disney in 2006 and offered a line called Disney Magic Selections. It also operates more than 1000 supermarket fuel stations. Isn't that amazing? Another interesting fact is that Kroger has a restaurant in Cincinnati named Kitchen 1883 to commemorate the year the first Kroger store opened. 
2. Albertsons Companies, Inc.
Let's discuss the next kid on the block now. It was opened in 1939 by Joe Albertson in Boise, Idaho. Boise is so proud of Albertson that a monument was erected to honor the first store. The company had made such brilliant profits that it went public in 1959. It collaborated with Skaggs Drug Centers to combine the sales of food and drugs in one facility. Unfortunately, the partnership came to an end in 1977 as the two were immense individually and became difficult to handle.
Another interesting aspect is the expansion and acquisitions made by Albertsons. From entry in Texas through Tom Thumb Stores, fully acquiring Skaggs, to their largest acquisition in 1999 – Purchase of American Stores Company, they were number one for the longest time, until Kroger took over the crown by acquiring Fred Meyer. 
3. Publix Super Markets, Inc. – "Where shopping is a pleasure"
Let's hop on to Publix supermarkets now. It was founded in 1930 in Winter Haven, Fla. The unique aspect about Publix is that it is the world's largest employee-owned company. The next fact will blow off your mind – In an industry that is full of layoffs, Publix has a record of not laying off even a single employee in the 86 years since it was founded. 
Publix also has a unique concept of having associates and not employees. This co-ownership makes the place very conducive to initiating and nurturing employee happiness. There is ample feedback given to employees in terms of 30, 60 and 90-day check-ins. There is a raise given every six months from hiring. Isn't this cool? 
There is also an interesting concept of "Publix Promise". It means that if you can your bill at the end of your purchase and find something at the wrong price then Publix will give you that item for free! There's another one which parents love. Publix offers free 14-day supplies of common antibiotics with a prescription. This is a noble service that helps ailing patients recover soon.
4. H.E. Butt Grocery Co.
Now this one is Texas' favorite grocery store which was started back in 1905. The store founder was Florence Thornton Butt, who started the grocery delivery service with a loan of $60 to support her family as her husband couldn't work due to Tuberculosis. Apart from the noble efforts that the company does it also has its own Culinary Academy to learn how to promote H-E-B brand products. There is a curbside pickup and home delivery service as well.
The chains' private label products are very popular and loved. They offer low-cost organic options to things like H-E-B Creamy Creations Unicorn Cake Ice Cream. Doesn't it sound yummy?
5. Whole Foods Market, Inc.
The first and foremost starting fact about Whole Foods Market is that it was purchased by Amazon for $13.7 Billion in 2017. It resulted from a merger between SaferWay and another Austin store called Clarksville Natural Grocery. Whole Foods has expanded its footprint by acquiring a series of natural food stores. The store banned plastics back in 2008.
A very interesting feature in Whole Foods is the employee discount based on cholesterol levels. Curious what this means? All employees at Whole Foods, on joining get a 20% discount, but going forward if their cholesterol levels, blood pressure, and BMI are in check then they are eligible for up to 30% discount. There are employee-friendly policies of shifting within different segments with a forty-five to a ninety-day probationary period. Existing team members can then vote if they want the person to stay back permanently.
6. Hy-vee, Inc.
Hy-Vee is famous for experimenting with the retail store model despite the industry is notoriously conservative. The store has opened an upscale urban concept store called Fourth & Court, which seeks to attract food-focused millennials living in downtown Des Moines, features an array of offerings not typically found in a traditional grocery store, including international food stations, craft beer bar, and an old-fashioned soda fountain. The company unveiled some fresh new store concepts, including a hybrid grocery-convenience format called Fast & Fresh that will feature 10,000 square feet of fresh foods, groceries, and a Market Grille Express
The chain has a stronghold in the home state of Iowa and has a solid presence in the seven surrounding states. While many grocers save money by using their stores to fill online orders, Hy-Vee's use of fulfillment centers promises faster, more efficient ways to pick, pack and deliver products. It's rightly tagged as the grocery disruptor of the year in 2017.
7. Southeastern Grocers, LLC
Southeastern Grocers, formerly B-Lo Holdings, is the parent company of BI-LO, Harveys and Winn-Dixie grocery stores. It serves customers throughout eight southeastern states; Alabama, Florida, Georgia, Louisiana, Mississippi, North Carolina, and South Carolina. It is headquartered in Jacksonville, Florida. Anthony Hucker is the president and CEO of the company.
There are some major mergers and acquisitions that have made Southeastern Grocers what it is today. BI-LO purchased Winn-Dixie for US$530 million and operates Winn-Dixie as a subsidiary with those stores maintaining the Winn-Dixie name. 
On May 28, 2013, it was announced that BI-LO was acquiring the Harveys, Sweetbay, and Reid's banners from Delhaize Group for $265 million. In September 2013, Southeastern Grocers announced an agreement to buy 22 supermarkets in South Carolina and Georgia from the Piggly Wiggly Carolina Co. Inc. for $35 million.
Conclusion
Isn't it fascinating to see how companies grow by amalgamating so many other fledgling players as well? 
Now that we have given you an insight into the top 7 wholesale grocery app stores in the US, in case you want to build a Grocery mobile app (grocery store sales app/ on-demand grocery delivery app) for your business, GrocersApp can take you through the process of building one with ease. If you have any query, write to us at info@valueappz.com