One thing without which people cannot live without these days is their smartphones. Today, it is estimated that more than 5 Billion people have their mobile devices, out of which half of them are smartphones. They have brought a lot of convenience to our lives. Specifically, the mobile apps have made it so convenient to get everything delivered at our doorstep. Grocery is an inseparable part of our lives as well.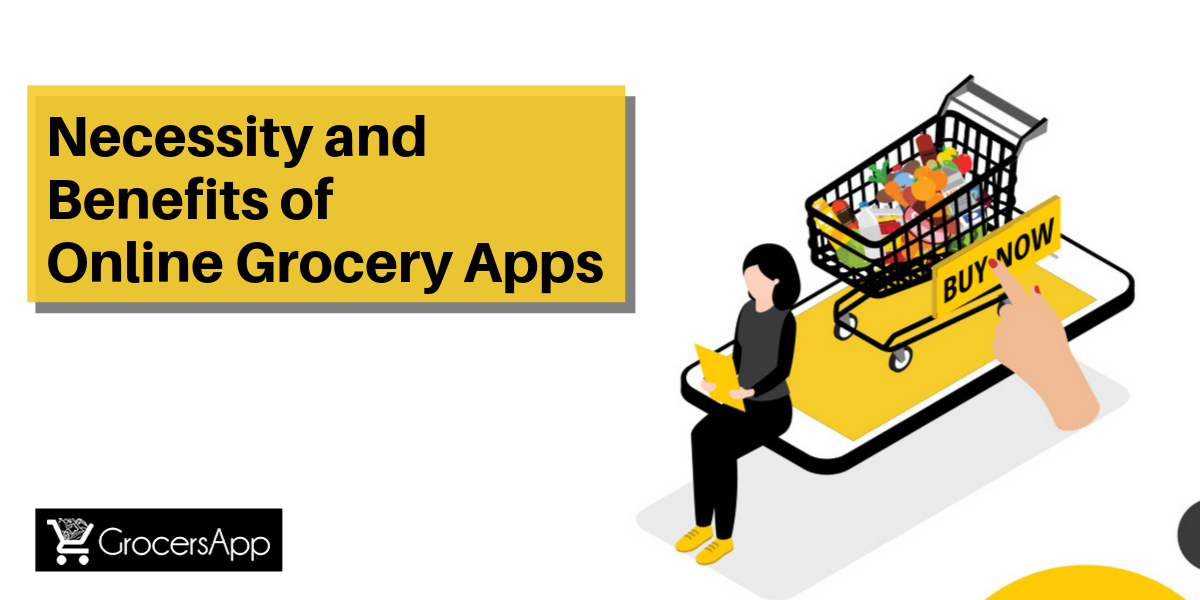 Every family no matter how rich or poor has to shop for groceries at least once a week. With hectic work schedules, it becomes very difficult to go out and physically buy groceries every day. This is where the on-demand grocery apps come to our rescue. You simply have to choose the things that you wish to buy, add them to your cart, make the payment through a variety of gateways and then get the grocery delivered at your doorstep.
Let's analyze the necessity and benefits of online grocery apps in more detail.
The necessity of Online Grocery Apps
Necessity 1: Lack of Time
With a forty-hour workweek, the working population is always running a race against time. They are trying to find ways to save time in whatever way they can. Online grocery apps not only offer the convenience of doorstep delivery but they also get the option of handpicking from a variety of choices, which might not be available in a normal brick and mortar store.
Also, the other options like delivery tracking, rescheduling helps people plan their day in a way that they can easily pick the delivery of groceries.
Necessity 2: Competitive Rates
There are so many players in the grocery delivery space that the prices at which the items are offered on the grocery delivery apps are very competitive and much lower than the MRP at which the items are sold in the normal stores. You also, tend to get the option of choosing between all ranges for a particular product.
Like you can pick up multigrain bread, brown bread, milk bread. The number of options that are offered at competitive rates is immense.
Necessity 3 – Saving the hassle of travel
Not every person has a grocery store near their place. Sometimes, one has to travel many kilometers to fetch milk and eggs. Online delivery helps in saving multiple hours of not only traveling to and fro but also, the time of browsing through items, handpicking the items, waiting in queue for payments and so on.
You can save your travel time by ordering groceries online and can then invest the time saved in some other activity. Having a wholesale grocery app can also engage more people in your family. Given children are a pro in using smartphones these days, why not take their help in ordering grocery online. Of course, the payment should sit in your hand.
Necessity 4 – Buying in bulk with ease
Buying in bulk is a great way to cut your grocery costs, however, many people avoid purchasing in bulk as it takes up extra cart space and also, one has to navigate the weight of bulky packages. Online shopping comes as a lifesaver here. You can simply add the bulky products to your virtual shopping cart and they will be delivered right at your doorstep.
Necessity 5 – Cutting the gas and parking costs 
When you are buying your grocery online, you are saving a few extra miles on your car, as well as saving on the gas and parking charges. Now you must be thinking how big an amount can that be? Well, if you add up these miniature mounts together for a year, it can sum up to a big chunk. Also, let's not forget the time that goes into finding a parking spot and then the whole time spent in the grocery store altogether.
Now, that we have discussed the necessities in detail lets hop on to some of the benefits of shopping grocery online.
The Benefits of Online Grocery Apps
Benefit 1 – Greater flexibility
With online grocery shopping, users can discover a wide range of products within their customized filters, explore the specifications and more. They also get to handpick from multiple options in all price ranges rather than choosing from limited options and settling for something more expensive. There is more comparison as well, you get to choose and compare what suits more to your budget.
Benefit 2 – Shop by history 
Imagine every time you go to a grocery store and your favorite products are already waiting in your cart. You don't have to keep picking the things again and again. This can be a lifesaver especially for items that you are bound to buy every week. Simply make your shopping list and avail the advantages of buying the same items in a hassle-free manner. Saves a lot of time and energy doesn't it?
Benefit 3 – Budget Control 
Now, this one is a no brainer. All of us are usually running on tight budgets as we have to take care of so many things and have so many expenditures during the month. It is easy to go over budget when you're buying impulsively that too dozens of items. Also, when you visit a store you generally don't go alone.
Mothers have to take their children along and 9 out of 10 the children will keep demanding unnecessary things which they find attractive. You end up purchasing them as there is no choice left. A cranky kid can become a bit of an embarrassment at public places.
So, to put it simply online shopping is kid-proof. You don't have to involve the kids while ordering groceries from an app. It's like a double win, you not only save time but also save the hassle of going, selecting and then dragging the items back.
Related Read: 5 Steps to Maximize Sales with Grocery App
Benefit 4 – Stay Organized
Rather than having random lists prepared every month, with online grocery shopping you have bills all stored in your order history. You can conveniently reuse the list time and again, rather than spending time and effort again and again to create new lists. Now, you might think that it hardly takes any time to make a list and all. But, if you see cumulatively it does take a lot of time to make a list every week, maybe a few hours every month. You could do so much in that saved time.
Benefit 5 – Increased customer loyalty
With apps giving you the convenience of getting the most commonly used item grocery at your doorstep, it must attract some form of customer loyalty. People will want to use the app again and again and it can help the online business flourish further. Take the example of Walmart and Amazon. Who would have thought that these startups will someday become major disruptors in the online grocery industry?
They have bought so much ease into people's lives that they are here to stay.
Now that we have given you the necessity and benefit of online grocery shopping, in case you want to build a mobile application (grocery store sales app/ on-demand grocery delivery app) for your business, GrocersApp can take you through the process of building one with ease. If you have any query, write to us at info@valueappz.com