COVID-19's impact on the grocery delivery business has created a buzz in the market.  Customers have shifted the focus – from offline grocery shopping online. 
Also, look at these trends: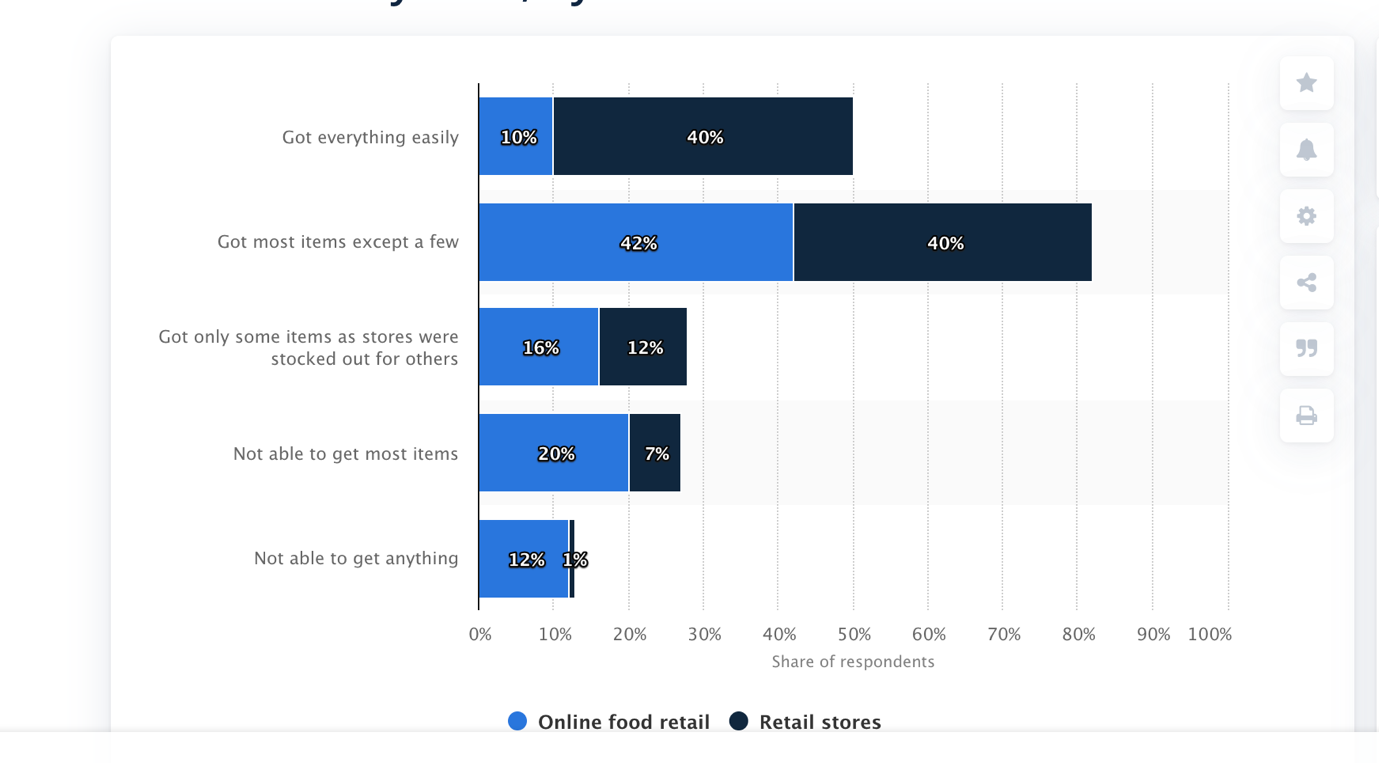 Source: Statista 
This is the impact of the coronavirus pandemic in just one country. The whole world is facing the impact.  The grocery delivery business is certainly the most affected business during COVID-19: that is surviving and growing during this pandemic. 
The Impact of COVID-19 on Grocery Businesses:
Understanding the Trends Before Building a Successful Grocery Delivery Business during this Pandemic 
We have stepped into a brand-new phase in the wake of the pandemic. Every business, including grocery delivery business, needs to invest in new technologies and resources for building a better business now. 
Leveraging AI and machine learning will help, precisely. These technologies predict and navigate interruption in successful business and satisfactory customer services. 
Remember, the customers are hesitating to adopt to rely on normal regular shopping patterns. A sense of panic can be felt while ordering groceries. 
Besides, the grocery retailers who were quite chaotic at the beginning of the pandemic, about the whole scenario, have now started to apprehend the customer's needs. 
Coronavirus: Grocery Delivery & Pickup Orders in the U.S. (2019-2020)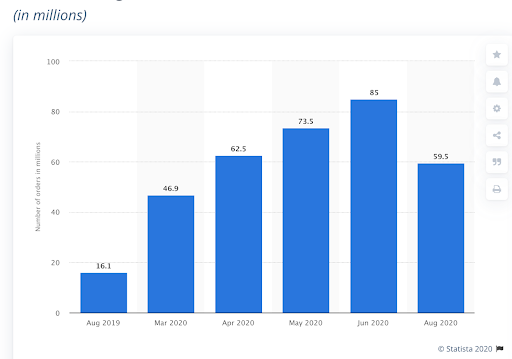 Source: Statista 
What are the Pain Points in Grocery Business during Pandemic?
The pandemic phase has initiated some pain points for both the customers and the grocers. 
Here are some: 
1. Stockouts 
Customers are losing confidence in retailers because of the lack of stock. It has, hence, become a pain point for the retailers to maintain the stock, and deliver groceries timely. 
2. Competition
One of the biggest trending businesses since COVID-19 has hit the world is the grocery business. Since there are dozens of competitors in the grocery market, it is tough to sustain and stand out amongst the competitors. 
3. Delayed Services
Customers are not liking the fact that groceries are not delivered on time. They are expecting more timely and quick services, which has become a pain point for many retailers, as not many delivery agents are available for work. 

Challenges to Combat (for Surviving) while COVID-19 Persists 
Of course, the grocery delivery business is accelerating. But there are certain challenges faced by this business too. 
Traditional grocery retailers are challenged unprecedented. Grocery retailers need to defeat these challenges – and build a successful grocery delivery business online. 
Continuous planning, expanded supply chain, sufficient stock to combat grocery shortages, product strengthening, and apt marketing strategies are some essentials to build a successful grocery delivery business during COVID-19, and ahead. 
What Solutions can Help You Combat these COVID-19 Challenges?
Quite a few solutions are available to address all these challenges and combat it to attain better business and customer relationships. 
Here are some:
1. Deliver, What's Required
One of the biggest challenges the customers are facing during this pandemic phase is the shortage of groceries. The grocers in the wake of COVID-19 must ensure that they are supplying enough stock to the customers so that no customer goes without the needed products. 
What's required to sustain a constant supply of groceries? 
Clear communication

Timely deliveries

Easy online ordering 

Understanding what customers expect during this pandemic

Apt pickup/drop off availability

Offering machine learning solutions

Optimizing store capacity

Managing shipping and processing costs
2. Modify your Grocery Business Model 
That's the need of the hour! Modify – the business, the strategies, the plan, the business model – everything has to be modified. 
Grocers now must focus on optimizing everything. They need to plan. Shifts in consumer needs must match with the retailer's ability to deliver. Hence, a need to modify the grocery business model is a must.
3. Utilize Technology
Demands are fluctuating. Product demand has changed. What's earlier was not important to customers is now ordered in hoards. 
As the demand for various products is fluctuating during Covid-19, grocers must utilize the technology, including machine learning and AI to maintain the business. Investing in big data and such technologies will certainly help. 
It will help in predicting future returns in such emergencies as coronavirus pandemic while understanding the buying patterns of the customers in the near future. Utilizing technology will certainly help in growing the grocery delivery business. 
4. Consumer & Staff Safety – The Priority 
Make sure you are not just concerned about your business. There is a need to think beyond, for the welfare of the patrons while sustaining the business. 
Grocers must allow customers to experience and encourage social distancing – while enjoying highly customized grocery deliveries online. Besides, don't be so indulged in the profits and business that you forget about the safety of your staff. 
That's paramount.
Apt protective gear should be supplied to the teams and staff so that they are safe while working to make your business successful during this pandemic. 
Hiring new staff? Opt for automated training resources, which help in building your new, highly trained, team while upkeeping the COVID-19 guidelines. 
How about a remote call center for those who are incapable to make it to the store? Of course, every customer will continue to have queries regarding the products/services during this pandemic – a team of employees who answers their queries would certainly help. 
5. Question Yourself – Am I a Reliable Grocery Supplier?
Of course, only you can answer that truly. Are you a reliable grocery delivery supplier? Or, do you believe there is something that lacks in your current business model? 
Grocers, especially during this pandemic phase, and otherwise should be reliable, trustworthy, and responsible enough to supply timely groceries to their patrons. It not only builds trust amongst the customers but also helps in building a successful grocery delivery business online. 
Being a reliable grocery retailer, you can store additional hours to serve your customers. You can even find more such unique solutions to deliver apt services to your patrons. 

Now, How to Become a Successful Grocery Delivery Business During COVID-19?
The Facts to Follow:
There is a little you need to do, but a lot to expect – if done aptly. That's how the leaders in the grocery business are growing during this pandemic. 
More patrons are shifting to online delivery businesses, and that's half of the success already gained in this business. The other half of success is attained when you set up a successful grocery delivery business during COVID-19.
Here's how:
1. Craft a List 
So finally, you have decided to build your grocery delivery business during COVID-19. Your first task would be to prepare a list of grocery items that will be available on your grocery delivery app or website. 
Plan and decide how many deliveries can you do in a day. How many deliveries are you expecting in a day or week? Is there a time slot left for serving your grocery consumers during additional hours? What will be the frequency of delivery? How many agents would you need to deliver such delivery slots in a day/week? 
What all business categories will be available in the app or on the website? You will have to list down all such possible questions along with solutions to kickstart your grocery delivery business during COVID-19.
Developing your grocery app? Don't forget to include all business categories, including perishable, non-perishable, and grocery products that are refrigerated. It is better to implement a First In, First Out (FIFO) strategy to curtail wastage of any grocery product. 
2. Investigate Locally and Tie Up
Hundreds of grocers are going online nowadays, and there's a reason. The consumers are online – and being a grocery retailer, you need to be online too. 
So, how do you start with that? First, you need to build your presence locally – It begins with investigating your local market and offer collaboration to them. 
Begin with a small local market investigation, and then magnify the geographic area to build your network of grocery delivery business. Once, you are done with the research, build a grocery delivery app that assists you in serving your patrons locally first, and then at a bigger level. 
Do you know how to build your grocery delivery business during COVID-19 successfully? Well, you have to find out the local restaurateurs, delivery agents, grocers, and other such people to build and sustain your grocery delivery business during COVID-19. 
So, once you have found out such local delivery agents, restaurateurs, and grocers, tie-up with them. Such people are constantly finding a strong, reliable, and trustworthy platform, which can help them in delivering their products. 
This collaboration with local agents can help you in meeting the accelerating demand of consumers for unique and specific products. 
These people can assist you in building a better business, and operate it aptly as well. 
3. Curbside Delivery 
Allow your customers to enjoy the option of curbside delivery. So, what does that exactly mean to allow curbside delivery? Well, it allows the grocery delivery app users to pick groceries when going home. 
Since the pandemic has initiated the demand for gathering stock, it becomes the responsibility of the grocers to supply the same to them. Nowadays, seeing the trend, most of the grocery stores have started to deliver this option for standing out amongst their competitors. 
It would be great if you can keep a 'specific time slot' for curbside deliveries so that there is no hindrance while following the sort of delivery option. 
For the grocery delivery business during COVID-19, it is essential to understand the needs of your customers to build and sustain a successful business. 
It is also a good option to build trust amongst the customers and delivering satisfactory services on time. Think about delivering special offers and services to senior citizens – that can affect your business positively. 
Of course, that is an intelligent move to build trust amongst customers, retain them for longer, and build a successful business online. 
4. Timely Grocery Supplies
your grocery delivery business will be successful only when you are on your toes to deliver timely grocery supplies to your customers. 
Your customers are going to stick to your grocery business only if the services are timely, reliable, and trustworthy. Besides, if you have trained your team to attain performance and efficiency, it would be easier for them to deliver on time, and earn a good reputation amongst the customers. 
Timely grocery delivery is the key to attain success in the grocery business. You have to understand one-point while being in the grocery business, and that is how well are you ready to perform. 
Are you ready with a sufficient team of agents to deliver the grocery services? Well, you need to find that out to maintain consistency for delivering groceries, and maintaining your reputation amongst your patrons during COVID-19 and further as well. 
5. Emphasize on Supplying Seamless Services 
Without this, you probably won't survive the market. Be it your grocery delivery app or website, it is important to create both in such ways that deliver high performance and extraordinary shopping experience to your customers. 
How do you think a grocery build a team of reliable customers? Well, it is only via seamless delivery experience that one can create highly loyal patrons and network. 
It is better to build a roadmap besides creating the right strategies and plans to create your grocery delivery business during COVID-19.
Another important factor to be considered while delivering timely services is apt security. Your patrons must not feel a lack of security during this pandemic while shopping for groceries from your store. 
It even depends on how well you have developed your website and app for delivering the grocery business. Emphasis on grocery delivery business is successful only when you have managed to deliver apt services on time while being consistent. You have to deliver secure services too. 
It is vital to keep a track of delivery-time and improve it further to enhance the customer satisfaction rate. Customers are denying to stand in long-queues for grocery services and being a grocery delivery agent, you will have to fulfill this need of your patrons. 
Why Should you have Your Own Grocery Delivery App? 
Of course, it has become important to have your own grocery delivery app to sustain the market. That's the need of the hour. Your customers are there online, and that's the prime reason you should be there too. 
And, here is what your grocery delivery app needs to incorporate:
Features of your Grocery Delivery App: 
Easy sign-up process

Quick and enhanced search

Push notifications

Safe and multiple payment options

Live order tracking option

Reviews and customer feedback

Add to cart feature

User profile and registration

Schedule delivery

Quick and seamless order management  
Why Should You Have Grocery Delivery App: 
Easy & advanced search and cataloging of goods that will keep your customers. 

To deliver rich variety and categories of grocery products.  

For allowing live tracking of the orders.

To enhance customer satisfaction by offering them exclusive offers and discounts. 

For delivering customized shopping experience to the patrons. 
The Takeaway Message 
The grocery delivery business during COVID-19 is growing. Grocers who are planning to enter the market need to be specific about the customer's needs and demands. It is easy to build a marketplace for grocery business online, but it is important to grow and sustain it the right way to win the grocery market. Be specific about how you wish to deliver grocery services, and to what area. Research the market before starting your business online. 
Grocery delivery business trends have declared that this market is at the peak. We just need to follow certain guidelines to enter the market and sustain.
Understand the customer's demand, especially during this pandemic, and organize your business model for your grocery business accordingly.
Finally, your customers are online, it is a smart decision to build your grocery e-marketplace.