The COVID-19 pandemic has changed the way we go about our lives- from work to shopping, and even buying groceries and essential supplies- it seems as if everything about the world has transformed overnight. 
Indefinite lockdowns and the increased need for groceries and essential items has made online grocery shopping apps indispensable.
But here's an interesting proposition – Is COVID-19 changing the online industry for good or bad? 
Well, that's subjective to different industries, and in this article, we'd be outlining the impact of the coronavirus pandemic on the online grocery business. 
But before we actually begin, here's the table of content:

The impact of COVID-19 on the grocery business

Challenges faced by the grocery business during the pandemic

On-Demand Grocery Solutions: The future of the grocery business?

Tips for running a successful on-demand grocery business
With that said, let's get started. 
The Impact of COVID-19 on Grocery business
Here's an interesting data-point:
Before the COVID-19 outbreak, online grocery shopping apps were still rare in the United States.
The Gallup news article that covers this story, even highlights that 81% of the US consumers cited to have never installed, let alone use an online grocery shopping app. 
Even if we were to search for the keyword 'Grocery delivery' in Google trends, you'd see a sudden spike from the period of March-April (the time when the community spread for coronavirus is at an all-time high).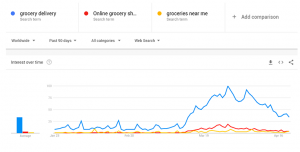 Source: Google Trends
The pandemic has disrupted all the major industries, and many businesses had even declared bankruptcy, but the market for online grocery and food delivery, on the contrary, has witnessed an exponential surge in demand. 
Demand for On-Demand Grocery Apps
Tech Crunch recently did an article highlighting the increased demand for Grocery delivery app downloads amid the coronavirus crisis. 
The company conducted a brief study, identifying and recording the pattern for grocery app downloads in the US, post Coronavirus crisis. The data is interesting, to say the least.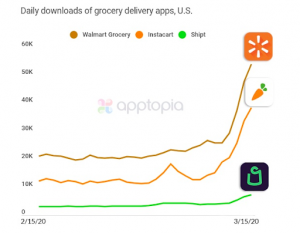 The graph indicates the current downloads for the online grocery apps amid the coronavirus crisis (as per the Tech Crunch's Study). The growth percentage of these online grocery app downloads, however, is listed as under: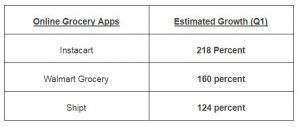 Coronavirus epidemic has brought several new challenges to the surface for the grocery industry, and these could be best-explained via two categories: General and technical. 
Challenges Faced by the Grocery business During the Pandemic
General Challenges
Do you know what is 'Panic Buying'?
Google defines it as 'the action of buying large quantities of a particular product or commodity due to sudden fears of a forthcoming shortage or price rise.'
Courtesy of the Coronavirus crisis, people have started hogging food and essential items at brick and mortar grocery stores.
The consequence?
Grocery stores are running out of stock,

Stores are in dire need to figure out new and improved measures to meet the increasing demand,

And meet the increased need for proper sanitization, ensuring a safe environment for employees and customers. 
Poor Supply Chain Management
Another big hurdle is supply chain management. Indefinite lockdowns and mismanaged planning has completely disrupted supply chain networks.
Traditional supply chains are outdated and consequently are challenged in unprecedented ways due to the COVID-19 crisis.
Don't take our word for it. Here's another data-point:
The institute of supply chain management conducted a poll only to find out that nearly 75% of companies have already registered disruptions and problems with their current supply chain networks. 
Technical Challenges
Before we state technical nuances, let's agree on a piece of general knowledge:
"Online grocery apps have witnessed huge spikes during the current global epidemic situation."
Grocery platforms weren't as mainstream as they are today and this sudden increase in downloads and usage is only meant to break the existing IT infrastructure. Let's underline major technical implications for eCommerce grocery apps:
The success of an on-demand grocery app highly depends on the app infrastructure and engineering factors including,
1. Engineering
An app's position on the cloud,

Level and position of the microservice journey,

And the level of initial system sophistication.
2. Scaling
Grocery and food delivery are two volatile industry niches that have witnessed unexpected surges in demand amid the COVID-19 crisis. To match these scenarios, a grocer needs to invest in auto-scaling technologies along with other services- whether microscopic or not.
Two key pointers that promote scaling of an on-demand grocery app include:
Optimized startups to avoid any lags, and remove any additional steps.

Server-based services must be cached to prevent cold-starts or lags.
3. Caching
There's a popular saying in the software market,
'Caching is a double-edged sword'
That is to say, if caching is done right, it promotes faster processing and low lags. However, if done wrong, it can lead to inconsistent system failure.
Key areas to focus on whilst caching your grocery app includes:
Cache all the generic content on CDN.

Don't mix TLL-based, and event-based caches.

Prefer client-side caching.
On-Demand Grocery Solutions: The future of the grocery industry?
"On-Demand Solutions is slowly becoming the new normal for the eCommerce industry."
A recent eMeals survey published in PR Newswire even suggests that 34% of US customers now prefer online delivery service providers instead of visiting the local brick and motor store.
That begs the question- 'Is it the best time for grocery marketplaces to invest in an on-demand solution?'
Well, for the better part, yes. Grocery stores often work offline, and opting for a sound grocery delivery app development can save these businesses in the time of the Coronavirus crisis.
With that said, let's highlight the best practices for grocery stores paving their way through the coronavirus pandemic:
1. Use On-Demand Solutions to Launch Updated Web Stores
If you run a grocery outlet, now is the time to go online!
According to the data analysis by Our World in Data, the active number of Coronavirus cases in the United States alone is at an all-time high.
As a precautionary measure, people are avoiding going out in the public, let alone visiting a crowded grocery store to buy essential items.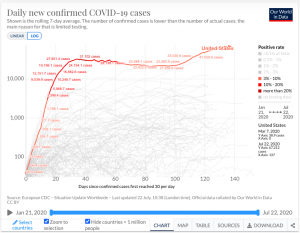 That said, if you run a brick and mortar store, your primary concern should be launching an online store in your neighborhood.
Why be limited to your neighborhood, though?
To put it simply, it will allow your existing customers to continue to shop with you, building upon the existing customer loyalty and trust.
The COVID-19 outbreak has had a different impact on the demand and supply for various products.
2. Optimize Performance for Better Stability
The coronavirus pandemic has indeed disrupted the supply chain networks, but one simply can't ignore the fact that it has been a contributing factor to the sudden spike in the demand for essential items.
To optimally deal with this unanticipated surge in traffic, a grocery or food delivery store can invest in an on-demand solution that's optimized for performance, and stability.
However, if you already run an e-commerce grocery website, here are some tips to optimize your website for performance:
Invest in a reliable web store host that you can update at any time, as per your business requirements.

Effectively plan load balancing by dividing the workload over a group of machines.

Experiment with lazy loading. Although counter-intuitive, it'd help with optimizing the increased traffic on your website.
*Lazy loading, according to Geeks for Geeks, is an optimization technique for the online content, be it a website or a web app.
3. Practice Safety Measures to Protect Your Employees
On-demand grocery apps do eliminate the need for physically visiting a store, but certain background processes require human intervention for proper execution.
For instance, logistics, and delivery of goods will ultimately be carried out by your employees. That makes proper sanitation and investing in safety measures ever so important.
On-demand grocery app solutions help you assist your customers amid lockdown, but reassuring your employees' safety is an external factor that indirectly impacts the success of your grocery eCommerce business.
Tips for Running a Successful On-Demand Grocery Marketplace
Conduct a Thorough Market Research
Thorough market research is quintessential to the success of your on-demand grocery business. If you have an existing eCommerce website or are just incepting on your on-demand business, understanding your market adds to your competitive advantage.
Invest in MVP Development
Minimum Value Product (MVP) is amongst the finest methods to invest, test, and succeed while adopting any new technology.
What is the Minimum Value Product?
Agile Alliance defines MVP as 'a concept from Lean Startup that stresses the impact of learning in new product development.'
That is to say, following the MVP approach is probably the best approach when investing in an on-demand grocery app solution, for it'd allow you to test new waters without investing a hefty investment.
Choose the Best Tech Stack
Technology stack plays a critical role in the success of an on-demand grocery app solution.
There's no denying to the fact that the technologies and infrastructure handling your backend determine your website's uptime during fluctuating traffic, alongside other aspects like capturing a new audience and keeping them hooked on to your brand.
Invest in Reliable Grocery Delivery App Development
Another crucial aspect to the success of your on-demand grocery app solution is hiring a tried and tested grocery delivery app development provider.
The right developers will help you in refining your on-demand grocery app concept and implement measures to drive the highest ROI and better perks in the future.
Closing thoughts
These are times of global medical emergency, and delivering essential items to your customers should be an utmost priority for your business. You can survive in the offline market, but as a grocer, the choices you make today will have a lasting impact on your business.
Work with the best developers in India to create a modern on-demand grocery app solution, and be ready for all the implications that lie ahead of the Coronavirus crisis.